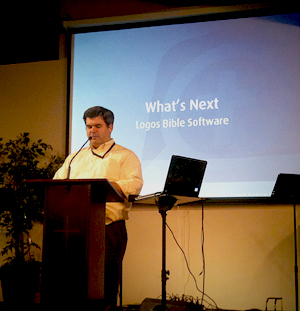 It's a powerful thing to sit in a company meeting here at Logos Bible Software. Our continued growth and expanding vision from our leader means you can be part of our next meeting—Logos is hiring!
Logos Careers

Part of each company meeting is used to recognize employees—employees who have crossed employment milestones of 5, 10, and 15+ years—those who have made working at Logos a career, not just a job.
At our most recent meeting Bob Pritchett (President/CEO of Logos), had employees identify themselves if they had never attended a company meeting. And to see a dozen or so new faces added to the team since our last meeting just a few months back was a great encouragement. Even more encouraging is that we are still growing.
Where Do You Fit In?
If you're searching for a new job you should consider Logos. We offer competitive compensation and a comprehensive benefits package including healthcare, dental care, and 401(k). Take a look at our Careers page for the latest openings. If you don't see anything immediately fitting what you're looking for, check back with frequency. New postings are added all the time. And for students, we have a super-sweet paid internship program. Twelve of our full-time developers started out as interns.

Currently, we are looking for:
Design & Editorial:
Information Technology:
Interns:
Marketing:
Ministry Development:
Publications:
Software Development:
All positions will require you to live in the Bellingham area as remote employment and telecommuting are not an option. But before you scratch any of the openings you're considering off your list, take a look at what Bellingham and living in the Pacific Northwest have to offer.
Even more enticing than our location is the fact that working for Logos Bible Software—the leading publisher of multilingual Bible software on Mac, Windows and mobile platforms—opens up exciting opportunities for growth and to be a part of a company that serves the church, academic, and lay markets, bringing the best in software innovation to Christians worldwide.