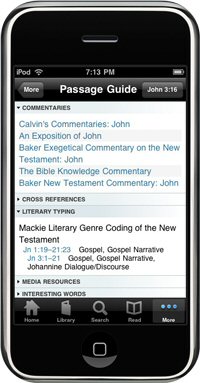 AppShouter.com called it "by far one of the best free Bible apps to hit the App Store." A writer for the Unofficial Apple Weblog lamented that he didn't have it when he read through the Bible in a year.
And just last week AppAdvice.com selected it as the "Essential Bible App."
So what makes the Logos iPhone and iPad app so great?
Free
The Logos bible app is free. It gives you access to 40+ different resources from Biblia.com (another free service from Logos), including 30 Bibles such as the HCSB, NKJV, ESV, NLT, NASB, and KJV.
You also get an additional 30+ free resources by simply creating a Logos.com account and signing in from the app.
Powerful
While there are a number of Bible reading apps out there, Logos is one of the few Bible study apps. And the tools it lets you use on the go are incredible!
Text Comparison—See how various versions translate a given passage and to what degree they differ
Word Studies—Analyze the Greek and Hebrew and see how a word is translated throughout the Bible
Passage Guide—Pull into one report everything from your library that relates to a particular passage
Cross references, parallel passages, literary typing, and more!
Portable
One of the best things about the app is that it allows you the freedom to take your digital library on the go. Have our Scholar's base package? Access literally hundreds of these works through your iPhone or iPad.*
Customizable
Tailor the app to fit your reading and studying preferences.
View any two books at once with split-screen viewing
Use sepia and low light color options
Adjust text size as you desire
Follow custom reading plans
Social
Ever read something so powerful or interesting that you wish everyone else could know about it? With the kind of books the Logos Bible app lets you read on the go, you'll no doubt read things that you want to share with your friends.
Good news. You can! Link the app with your Facebook or Twitter account, and you can share any passage and your thoughts as you read!
Logos has packed all these features into the iPhone and iPad apps to give people yet another way to get more out of their Bible study and reading. It gives your base package a sort of multiplier effect, making it even more exciting and useful.
And if you're using another mobile platform, check out Biblia.com for the time being. We've heard from you all and are working hard to bring Logos to more devices.
Today's guest post is by Stephen Smith, from the Logos Bible Software marketing team.
*We're working with publishers to make every Logos resource available in the app. The vast majority of our base package resources are available on iOS devices.