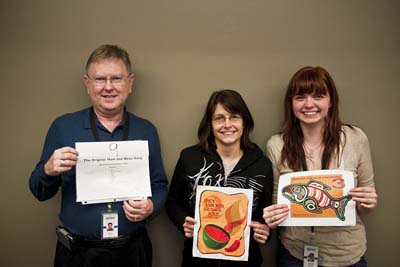 January 20th proved to be a perfect day for Logos' annual soup cook-off. In true Pacific Northwest fashion it was a cold and rainy day. The weather did not hamper this year's cook-off though as entrants were excited to participate in not only the first cook-off of 2011, but also the first cook-off held in the recently acquired Flatiron building.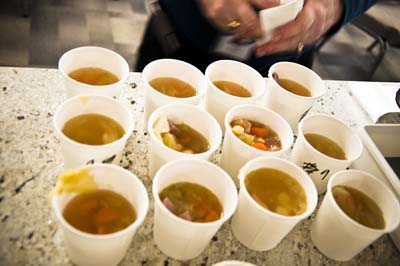 While the 10 entrants prepared their dishes, the aroma of a variety of awesome soups lured hungry employees to line up in anticipation. Ultimately the happy eaters had to vote for their favorites, and it was a close call this year.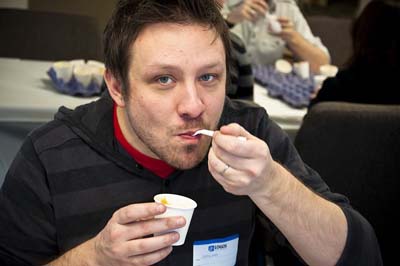 After all was said and done, the winners of this year's cook-off were Don and Tara Everett's "Spicy Chicken Sausage Soup." Second place was awarded to Sarah Knepper with her "Pnw'ed Salmon Chowder," and coming in third was Tom Fay with "The Original Ham and Bean Soup."
Here is the recipe for the Everett's award winning soup:
Spicy Chicken Sausage Soup
Ingredients:
1 onion, chopped
1 pound of pork sausage
1 pound chorizo
2 average sized chicken breasts
2 tablespoon olive oil
1 pound ground pork sausage
6 cloves garlic, diced
2 bay leaves
2 carrots, peeled and chopped
3 stalks celery, chopped
2 cup chicken broth
2 cans white beans, drained
thyme and sage to taste
In a large pot, add olive oil and brown pork sausage.
Break up and add chorizo
Chop up and add uncooked chicken breasts
Add garlic and bay leaves
Add onion
Add carrots and celery
Add chicken broth (you can add more broth to taste)
Add white beans
Add thyme and sage to taste and let simmer until it's as thick as you want it
Remove bay leaves
Enjoy!
Thanks again for everyone who participated and helped create another successful cook-off and congratulations to all the winners!
Today's guest post is by Deborah Mickens, from the Logos Bible Software marketing team.