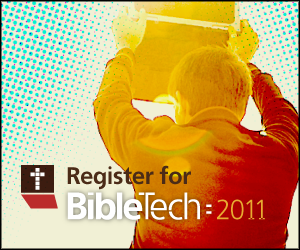 BibleTech:2011 is shaping up to be an incredible event for anyone passionate about the latest developments in Bible and technology! If you don't believe me, check out the newly posted schedule for yourself!
Curious about the hows and whys of the The Greek New Testament: SBL Edition? Do you want to know how ProjectEbenezer.com is using the internet to connect the Church to theologians? Have you wondered what the Scriptures teach about technology and its appropriate use? Maybe you're more interested in mobile Bible study or what's in store for the next generation of mobile technologies.
Wherever your interests lie, be sure to secure your seat at BibleTech:2011, where you'll learn from the experts! Registration is only $159.95 and gets you access to twenty-eight presentations, three catered meals, a conference T-shirt, and the chance get to know fellow Bible and technology geeks!
BibleTech:2011 will consist of fourteen sessions split between March 25 and 26. Each session will give you the option of a high-tech presentation or a low-tech presentation. The high-tech presentations will discuss the latest developments in Bible software platforms and the use of computer-based technologies for Bible translation and Bible study. The low-tech presentations will handle issues of design sensitivity, current trends in Bible technologies, and the integration of the Bible with internet-based communities.
A list of conference speakers is available on the conference website. Get acquainted with the speakers and catch up on their preparations for BibleTech:2011 by checking out their personal links. You can also view the official BibleTech:2011 schedule and plan ahead for your BibleTech experience.
Register today! BibleTech:2011 and experience a fresh look into the exciting ways that technology is affecting the way we study, visualize, and communicate the Scriptures.