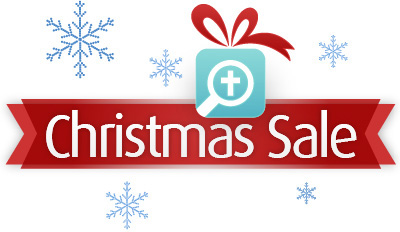 If you are a regular blog reader, you have heard a lot recently about the amazing Logos Christmas Sale—and rightly so. The 2,010 volume Christmas 2010 Master Collection is the largest collection we have ever assembled and we're selling it for $1 per volume! We're talking about 2,010 titles worth more than $61,000.00 in print for sale at nearly 97% off the retail price.
Let's be honest though, how many of us don't think twice about a $2,010 purchase? Sometimes it is difficult to justify a huge investment—even when it is the deal of the century.
To help remedy this, we created some smaller sale collections. The books in each of the smaller collections are completely unique. So, you could pick up the 250 volume collection and the 500 volume collection without worrying about doubling up on content.
We have also discounted every title available in the Christmas 2010 Master Collection by 50%. This way you can pick and choose the titles you want at a discount that is still pretty remarkable.
Just remember, as the collections get smaller, so do the discounts. Where the Christmas 2010 Master Collection is a savings of almost 97%, by the time you get to the 125 volume Christmas 2010 Starter Collection the savings drop to 93%. When you choose to purchase individual titles, you are only saving 50% off of the retail cost. These are still great savings, but you want to get the best deal you can for your investment.
Using the Payment Plan is a great way to take advantage of the best deal in Logos history. With the Payment Plan you can spread the purchase of your Christmas collections out for up to a year.
When you use a Payment Plan, the Christmas 2010 Master Collection can go from $2,010 right now to $172.50 over twelve months. The 500 volume Christmas 2010 Collection 3 becomes a much more manageable $46.66 a month over the course of a year. With our interest free Payment Plan, you get a better value by paying incrementally.
All you need to do to use the Payment Plan is simply click the "ADD TO CART" button on one of the collections. When you go to check out, you will be prompted with payment options which will let you choose the Payment Plan that will work for you.
We also know that some of our users have a strict book purchasing budget. We intentionally extended the sale through midnight January 2 to allow you to take advantage of your 2011 book funds.
Take another look at our incredible Christmas values, and think about how you can use one of our Payment Plans to get the biggest bang for your buck.