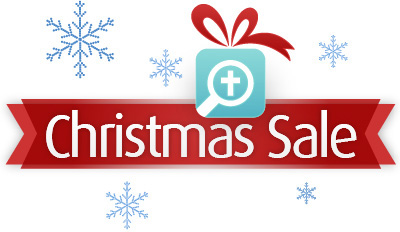 12 Days of Logos, back by popular demand, has been underway for several days now. But that's not all we have planned for Christmas this year.
More Christmas Sales!
Most of you are likely to find at least one great deal in 12 Days of Logos, but some of you may already own all the products being featured—or perhaps you're just not interested in what we've chosen. So we came up with some more amazing Christmas sales just for you.
2,010 Titles for $2,010!
We've assembled a massive collection of 2,010 titles worth more than $61,000.00 in print, and we're offering it at the insanely low price of only $2,010! At nearly 97% off retail and $1 per volume, this is the best deal we've ever offered—and it's the biggest collection we've ever assembled. See the list of everything you'll get. Warning: it may take you a while to get through it!
$2,010 vs. $172.50 for 12 Months
While $2,010 isn't pocket change, as soon as this collection starts shipping (which could be as early as this Friday), you'll be able to put it on a payment plan and spread the cost out over 12 months. If you want to use a payment plan, wait to place your order until it starts shipping. Don't worry. The price will stay the same when it comes off Pre-Pub. This collection is probably one of the best ways you could spend your 2011 book budget.
Collections for Everyone
We realize that not everyone will be able to spend $2,010 on a collection—even with a payment plan. So we're also offering four smaller collections:
These four collections don't overlap with each other, so you could buy multiple collections without getting any duplicates. Even though the master collection is the best deal, all of these collections offer an amazing amount of content for the price.
50% Off Your Favorites
Have a more modest budget, or just want to be more selective? Don't worry. We haven't forgotten about you. All 2,010 titles included in the big collections are on sale—most individually and some in smaller collections. We've discounted them all by at least 50%, and there's no limit on how many you can buy. Buy 1, 10, 100, or even 1,000, and take 50% off your entire order! No coupon codes necessary. Just add them to your cart and check out.
2,010 "New" Titles
Where did these 2,010 titles come from? Are they all new?
Technically, most of them aren't brand new. But many if not most of them will be new to you.
Uncovering Buried Treasures
One of the new features on Logos.com is faceted browsing (the sidebar with all the categories that lets you stack various topics and facets on top of each other). It gives you incredible precision to find exactly what you're looking for. Browse and filter by topic, resource type, author, publisher, Bible book, status, platform, and many more. As a result of this amazing new feature, many of you are discovering hundreds of titles that had previously been virtually invisible. In fact, most of them you probably didn't even know we sold. Now that we have faceted browsing, we think you'll be surprised at how many "new" titles you discover. The great news is that more than 2,000 of these gems are on sale for 50% off. See what buried treasures you can discover.
Breaking Up Collections
Most titles that go through our Pre-Pub program are in collections. That's great for many people, but others are quite a bit more selective in what they buy. If that's you, we've got good news. We've been splitting up most of our collections so you can purchase just the volumes you want. And we've included more than a thousand of these in this year's Christmas special. Go find the ones you've been waiting for, and save 50% on your entire order.
20% Off Base Packages and Up to 20% Off Upgrades
And last but not least, we're extending our special base packages and upgrades sale a little longer. If you don't have a base package or are looking to upgrade to Platinum or Portfolio, now's the last chance you'll have for a while to get this good of a deal.
Good through the End of the Year
All of these specials are on right now and run through midnight on January 2. We intentionally chose to extend the specials into 2011 for those of you who need to tap into your 2011 budget.
Visit our Christmas Sale page for more information, and be sure to click the Like and Tweet buttons to let all your friends and colleagues know about the special Christmas sales.
FAQs
Several questions have come up, so I thought I'd address them here. Feel free to ask any other questions you have in the comments.
Is there a way I can see what I already own?
Yes. All 2,010 titles in the master collection are also available for sale in our new Christmas Specials list. You can either filter out the titles you already own to see what's left, or filter out the titles you don't own to see what you have. This should help you evaluate how much of the content (if any) you already own and find the collection(s) that are best for you.
I already own some of the content in these collections. Can I get an additional discount?
We've priced the collections knowing that many of you will own some of the content included in these collections. Even if you own half of the 2,010-volume collection, it's still an amazing deal. If you're not convinced, you're welcome to build your own collection and take 50% off your entire order!
My 2010 book budget is spent? Can I put this on my 2011 budget?
Yes. We intentionally extended the sale through midnight January 2 to allow you to take advantage of your 2011 book funds.
Can I buy one or more of the collections using a payment plan?
Absolutely. You can take up to 12 months to pay for your purchase. If you're going to use a payment plan, you'll need to wait until they come off Pre-Pub.
The collections are currently on Pre-Pub. Why? And when will they ship?
We're putting the finishing touches on them, and we didn't want to make you wait any longer to see what we've been working on for you. The collections are almost ready to go and could ship as soon as this Friday.
When the collections ship, will the price go up?
No. The price will not change after they ship and will stay the same through January 2, 2011.
How long will all the sales last?
The prices are good through midnight on January 2, 2011.
How do I save 50% off the individual titles and build my own collection?
We've gone ahead and changed all the sale prices for all the titles, so you can simply add them to your cart and check out. You don't need to use a coupon code.
Do you have a comparison chart of what's in each collection?
We're looking into making an excel spreadsheet available that you can download and peruse. Check back later.