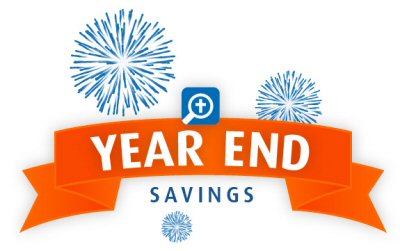 We have had some of the greatest sales in Logos history this December. Sadly, the time to take advantage of these incredible savings is almost over. All of these deals end midnight Sunday, January 2, 2011!
Putting together the unprecedented Christmas sale this year has been so much fun for us. The Christmas 2010 Master Collection (2,010 vols.) was proof that we don't like to do anything halfway.
This massive collection of 2,010 titles worth more than $61,000.00 in print for the insanely low price of only $2,010, was an exciting sale to offer! At nearly 97% off the retail price and only costing $1 per volume, this is the biggest discount we have ever shared—and the biggest collection we've ever assembled. I mean, just look at this awesome list of titles that make up this collection!
But that wasn't all.
We also offered four smaller collections that didn't overlap with each other, so you could buy multiple collections without getting any duplicates.
If that wasn't enough, we also gave you the opportunity to build your own collection with 50% off every title featured in the Christmas 2010 Master Collection (2,010 vols.).
On top of those great Christmas sales, there was also the second annual 12 Days of Logos sale. On December 21, we extended the sale through January 2, 2011.
But that is still not all!
We have been offering discounts on all base packages, and also great upgrade discounts.
Just like 2010, all of these special savings are drawing to a close. Come midnight January 2, 2011 all of these sales come to an end. So, what are you waiting for? Take advantage of these incredible offers while there is still time!
And from all of us Logos Bible Software, have the happiest of New Years!