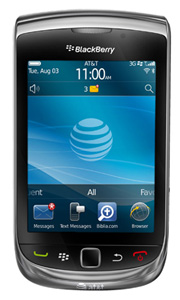 BlackBerry users, there is now an easier way to access Biblia.com! Now you can use the free Bible study tools or access many resources from your Logos 4 base package quickly and effeciently. We have created a Biblia.com launcher which utilizes our distinguishable Logos icon—giving you one-click access to Bible study on your BlackBerry. Take a moment to add the launcher icon to your home screen now.
Using your BlackBerry's web browser, here's what you'll need to do:
Select Download when prompted
Once successfully installed, select OK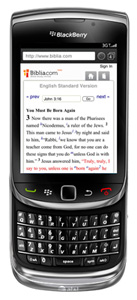 The Biblia.com launcher will now be in your Downloads folder. You can then move it to the location you prefer.
Now, I realize the next question will probably be, "When is Logos planning to have a full BlackBerry App?"
At this time we do not have any immediate plans to release one, athough it isn't out of the question. (See the Logos Forums for Logos BlackBerry App discussions.) You can, however, immediately access thirty free Bibles, dictionaries, and commentaries. You can then unlock thirty-one additional resources by signing up for a free account.
If you're a Logos user, many of your base package resources will automatically be available through Biblia.com. Simply sign in using your Logos.com account information and check the Library.
[Note: Not all titles available in our base packages are currently available via Logos apps. Don't own a Logos 4 base package? Get 20% off now in celebration of our Logos.com redesign! Use coupon code REDESIGN during checkout.]
Logos Apps—iPhone, iPad, Web
Mobile devices are here to stay, so as a leader in delivering digital content, we are continually developing ways for Logos users to access content while on the go. Take a moment to visit our apps page for related content, then, be sure to bookmark the page and check back frequently as this will be the place we provide all app related information, including content about any future Logos BlackBerry App.