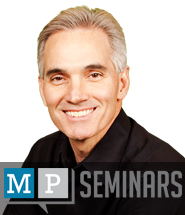 Today's post is from Morris Proctor, certified and authorized trainer for Logos Bible Software. Morris has trained thousands of Logos users at his two-day Camp Logos training seminars.
After reading a while in your Bibles and books you'll begin to notice little gray hash marks in the vertical scroll bar of the resources. These marks are called Auto Bookmarks.
Imagine as you read print books that you "dog ear" each page you read. That's what these gray marks are. They indicate every place you've been in a particular Bible or book. Rest your cursor on an auto bookmark and you'll see a preview of the text on the page. Click the mark to jump to that location.
If, however, you'd rather not see the auto bookmarks you can easily hide them:
Choose Tools | Program Settings
Set Show Auto and Favorite Bookmarks to No
If you have a change of heart, just return to Program Settings and reset the option to Yes.