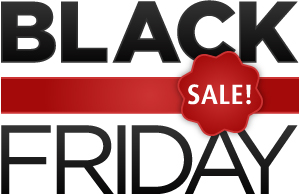 We've been thinking about having a Black Friday or Cyber Monday sale, soliciting ideas from our customers, and doing a little research on Black Friday sales in general.
One of the first things we came across in our research was a lot of reporting on the stress and frenzy of Black Friday shopping. Apparently if you decide to get in a car and go to the shops, it is going to be insanely busy. One description of Black Friday we read started off like this:
"Like lions stalking their prey, eager shoppers line up at the crack of dawn, waiting to pounce on the best deals. In a jungle-like atmosphere, anxious shoppers strategize their method of attack and then grab their purchases, all for the chance at a good deal."– Lauren Wietchy, Valley Vanguard
Sounds a little crazy doesn't it?
Everyone has their own preferences when it comes to shopping, so this year, we have decided to give you the best of both worlds: shopping without leaving your pajamas or the comfort of your home, and the thrill from the bargain "hunting" aspect of Black Friday.
Here's the deal:
You pick any three products that you wish were on sale, send us an email, and we'll send you our exclusive limited time sale price. If you like the prices, buy one, two, or all three. You decide.
We have thousands of titles available at exclusive Black Friday/Cyber Monday discounts, but we aren't going to publicly advertise what they all are (crazy, huh?!) No price list, no product list, The deals are so good that we are limiting them to three per customer, and only by request.
Here's where the thrill comes in.
You have one chance to pick your top three items and send in one request for a price quote on just those three items.
We have sales staff working on Friday and Monday (and maybe a little email coverage on Saturday too), and we'll try to get back to as many emails as possible on Friday and Monday, but as long as you are in before the deadline you are covered.
Send one email to sales@logos.com. In the email you must include the following information:
Your name and phone number.
The name of three products you want exclusive Black Friday/Cyber Monday deals on.
The web address (URL) of each of the three products you want exclusive Black Friday/Cyber Monday deals on.
To help make sure you don't waste your only three chances for an awesome deal, it's only fair to warn you that, due to various contracts and licenses, some titles aren't able to be discounted at all. (Zondervan, Galaxie, Concordia…) Also, don't ask for a quote for any title that is not shipping yet, since all Pre-Pubs and Community Pricing titles are not available yet, and the sale ends before they go live.
For all emails that arrive before midnight on Monday November 29th, 2010 we will reply with a Black Friday/Cyber Monday exclusive sale price and you will have 48 hours to respond in order to get that price.
Ready, set, shop!
Start browsing our site for the products you want and send your emails in! We'll get to them first come, first served.