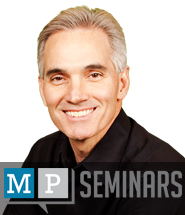 Today's post is from Morris Proctor, certified and authorized trainer for Logos Bible Software. Morris has trained thousands of Logos users at his two-day Camp Logos training seminars.
Years ago when I used print books, I always had a legal pad on my desk so I could record a list of verses as I studied. I would do all sorts of things with these verses: memorize them, create a handout to distribute to the congregation or class, file them away for future reference and so on. With Logos 4, it's very easy to create, save, and reopen such a list with a file called the Passage List. Here's just one way to create a Passage List:
Click the Search icon
Select Bible as the Search type
Set your search criteria by using the drop down lists
Type a word or phrase in the find box such as mercy or "but God"
Click the search arrow or press the Enter key
Click the Search panel menu (top-left corner of panel) when the Bible search results appear
Select Save as Passage List
You'll notice that a Passage List file is created. You can now name the file, select the Bible(s) to be used in the list and so on. Anytime you want to reopen and use the list choose the File menu and click the desired list to open it.
You can create as many Passage Lists as you want. I encourage you to make numerous lists as you study topics such as forgiveness, angels, and so on. Then, when you need to see verses for a particular subject, just return to the File menu.