We have been ramping up our production lines, and we're getting ready to ship several collections totaling more than a hundred books in the next couple weeks. The good news for you is that this provides you with one last chance to get some quality books at incredible prices. Once these books ship, the Pre-Pub prices will disappear.

Here are some of the highlights:
Pillar New Testament Commentary: The Letter to the Hebrews
This commentary is the newest volume in the Pillar New Testament Commentary. The commentary is neither unduly technical nor unhelpfully brief. D. A. Carson wrote that "it would be difficult to find a more helpful guide [to Hebrews] than Peter O'Brien or a guide better endowed with his combination of competence and genial wisdom." If you're planning a sermon series or teaching a class on Hebrews, you'll definitely want to pick up O'Brien's new commentary.
This commentary will sell for $50.00 after it ships, but between now and October 14 you can get it for $29.95 on Pre-Pub.

In one of the newest volumes in the Anchor Yale Bible, Duane Christensen offers a detailed analysis of the Hebrew text, and explores the literary structure and the poetry of the book. It contains original translations, a detailed book outline, verse-by-verse commentary, analysis of interpretive approaches, and lots of introductory material.
The list price for Anchor Yale Bible: Nahum is $65.00, but for a little while longer you can get it on Pre-Pub for $49.95.
The Practical Works of the Rev. Richard Baxter (23 Vols.)
The Practical Works of the Rev. Richard Baxter (23 Vols.) contains the treatises, sermons, and works of one of Puritan England's most prolific writers and most influential preachers.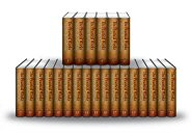 Richard Baxter preached theological unity during a century of schism, and advocated mutual respect within the church during a period of intense religious warfare. He wrote with the conviction that theology should always be connected with both Christian ethics and human experience. He offers timeless on practical Christian matters, such as worship, devotions, parenting, education, relationships, and more. If you're interested in the Puritans or in the history of Reformed theology in general, this collection is a must-have.
The sale price will be $349.95 after it ships, but for a few more weeks you can get it for $179.95.
That's just the tip of the iceberg. There are a ton of additional books shipping in the next few weeks. When these books ship, the Pre-Pub prices disappear. Make sure you get in on these deals while they're still available! Head on over to the Pre-Pub page to see what else is shipping soon!
You should follow us on Twitter
here
.