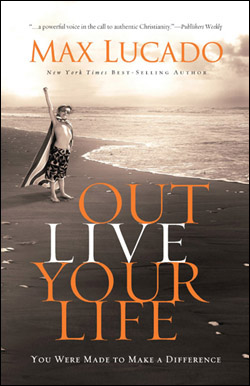 We are so excited to announce that from September 19–24 Max Lucado's brand new book Outlive Your Life will be featured at FreeBookPreview.com! That's right, during the week of September 19th you will be able to examine Outlive Your Life completely free.
Max Lucado, the pastor of Oak Hills Church in San Antonio, TX, is the author of over fifty books with 80 million copies in print. In 2005, Reader's Digest named Lucado "The Best Preacher in America." Max's books, profound in their simplicity to communicate God's powerful love; have appeared on every major national bestseller list including The New York Times, Publishers Weekly, USA Today, Evangelical Christian Publishers Association, and Christian Booksellers Association.
In Outlive Your Life, Max uses Acts 12 to consider how a few passionate nobodies can turn the world upside down with an outrageous love and an even more outrageous gospel. Can God use us to have an impact here that outlives us? The answer is a resounding "Yes!"
You can read Outlive Your Life on the free Logos Bible Software iPhone app. Then head on over and "like" the Free Book Preview Facebook page and get involved with discussions about the preview with other people who are reading it as well. Who knows, you may get to interact with Max himself there about the book! Twitter users follow can follow us @freebookpreview.
If you are enjoying previewing books for free, please keep sharing, tweeting, and finding interesting ways to get the word out about FreeBookPreview.com!