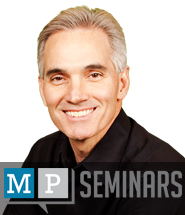 Today's post is from Morris Proctor, certified and authorized trainer for Logos Bible Software. Morris has trained thousands of Logos users at his two-day Camp Logos training seminars.
I recently received an e-mail from a gentleman asking if there was any way to locate all of the Old Testament verses mentioned in the New Testament. You'll be happy to know the answer is yes! What's more, Logos even neatly recorded them all in a resource. Here's how to navigate to the book:
Click the Library icon
In the Library's Find box enter this text: type:harmony
(Note: This will display all of the harmonies contained in your library. You should see the resource, Old Testament Quotations and Allusions in the New Testament, which is included in all base packages with the exception of the Christian Home Library.)
Click the title of the resource to open it
Click the panel menu of the open resource
Select Show table of contents
In the contents pane you'll see both books from the Old Testament (the source of the quote) and New Testament (the destination of the quote)
Click the arrow icon next to the title of a biblical book to view the chapters
Click a chapter number to jump to that location in the resource
Now you'll seeboth the source and destination of the quote side-by-side!