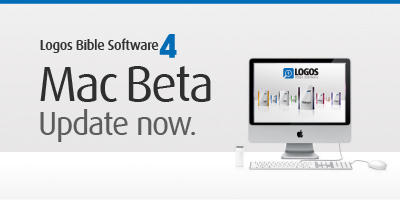 Have you noticed everyone's getting a Mac?
We sure have; Logos 4 for Mac has been in Alpha all year long, yet thousands of users have already made the switch. Undeterred by theft or theft, our Mac team has been putting out new Alpha releases every two weeks. And today I'm happy to announce we've hit Beta!
Logos 4 for Mac is working well, and we have most features of Logos 4 for Windows up and running on the Mac. (And in some cases running twice as fast!) Beta means we're confident you can install Logos 4 for Mac and join the thousands already using it as their primary Bible study tool. The developers will be focusing on your feedback, fixing bugs as they are reported, and polishing the user interface.
Then we'll add the minor missing features and make sure we're in sync with the 4.1 features already in beta on the Windows side. Moving forward, our goal is simultaneous release of new features on Mac and Windows, and a seamless cross-platform experience for all your books and data: Windows, Mac, iPhone/iPad, and even the web.
To report bugs or get help, be sure to check out our forums, where you'll find a strong user community and many of our developers hanging-out.
I hope you'll join me in thanking our development team for their hard work and long hours. They've done an amazing job catching up to decades of Windows development in a very short time. And thank you for your patience; I trust you will find the result a blessing and an aid in more and better Bible study!
If you are interested in the beta for yourself, you can buy a Logos 4 base package, upgrade to Logos 4, or download the free beta and try it out. You're going to be glad you did!