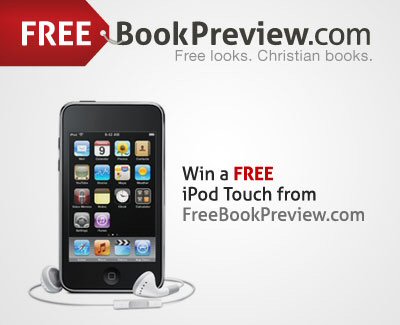 On Monday, July 26, 2010 we will launch FreeBookPreview.com. To celebrate this event we are giving away a free iPod Touch!
FreeBookPreview.com
Now you can sit back and really check out a book on your iPhone, iPad, or iPod Touch before you purchase it and not be confined to a couple of pagescans. Free Book Preview works with the free Logos Bible Software app allowing you to preview entire Christian books for a limited time. At FreeBookPreview.com you can see a calendar of upcoming previews, read descriptions of previewed books, and see an archive of previously previewed books.
Getting your Free Book Preview is as easy as 1-2-3:
Download the free Logos iPhone app
Sign in or create a free Logos.com account
Enjoy your Free Book Preview!
With the free Logos Bible Software app you already have access to a ton of great features.
There are many of the Bibles featured on Bible.Logos.com, lots of free books when you are signed into your Logos.com account, Text Comparison, Word Study Guides, and over 4,000 Logos Bible Software titles that coincide with your Logos 4 Base Package. . . . and that's just the beginning. Free Book Preview adds another great component to an already incredible app! Seriously, we're just giving this away!?
But wait, there's more!
No one likes reading books they can't talk about. When you "like" the Free Book Preview Facebook page you can join a community of others who are previewing the same book at the same time. You can write reviews and take part in discussions that will be read by fellow previewers all over the world. And you will get news about current and upcoming previews right into your news feed.
The key to getting newer and higher profile books in Free Book Preview is in sharing the service with all of your friends through tweets and posting it on your Facebook pages. In fact, we are so convinced that sharing this website with your friends will keep FreeBookPreview.com alive that we are giving away a free iPod Touch and all you have to do to enter is head over to FreeBookPreview.com/giveaway, share us, and send a link to your Facebook profile page to fb@Logos.com. to win!
So what are you waiting for? Head over to FreeBookPreview and check us out. I would love to be able to send you an email saying you've won an iPod Touch!