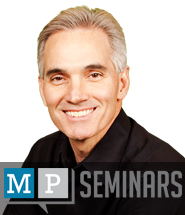 Today's post is from Morris Proctor, certified and authorized trainer for Logos Bible Software. Morris has trained thousands of Logos users at his two-day Camp Logos training seminars.
Normally when I read a print book, I read with a highlighter in handto mark those things I deem important. After finishing the book, I skim back through it, reading only the highlights to reinforce them in my mind. Did you realize you can do the same thing with Logos Bible Software 4? Here's how:
Open and read a Logos book
From the Tools menu use the Highlighting feature to mark up the resource
Now read back through just the highlights:
Choose the resources Panel menu
Select Show locator bar (keboard shortcut: Ctrl+Shift+L)
Click the small triangle next to the word Article on the right side of the Locator bar
From the drop down list select Highlight
Now use the Up (Previous) and Down (Next) arrows on the right side of the Locator bar to jump to the Previous or Next highlight! It's like reading your own CliffsNotes!