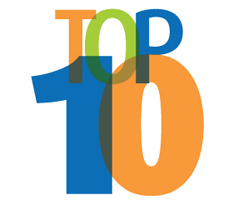 If you don't already have one of our Logos 4 base packages and you're looking for a recommendation on which collection to get, or if you're ready to add commentary sets, collections from authors, or individual titles, then start with suggestions from what Logos users have elevated into our Logos Top 10 Lists. The Logos Top 10 Lists allow you to quickly identify important works as determined by our large user base, those who, like yourself, are interested in rightly dividing the Word of truth.
Our lists are filtered into three general categories:
Logos Base Packages
Essentials
Authors
While recently updating the Top 10 lists, what stood out as interesting was that of all the products in the Essentials and Authors categories are currently collections or bundles of some sort. Since the list is based on user purchases, this got me thinking. Why isn't even one single-volume title on the list? The only reason I came up with was this: You get the best per-volume price on Logos resources when you add collections of books rather than individual titles.
Our top 10 lists attest to this fact.
Take the #1 title from the Essentials category: Tyndale Commentaries CD-ROM (49 Vols.)
At 49-volumes, this collection might at first appear to be more than you need if you are studying smaller books of the Bible like 1 & 2 Peter or even Hosea. But think long term. Do you plan on teaching or preaching through the Bible? Do you have an OT or NT survey course this coming semester? With Logos, every word is essentially a link, so every word you add to your library makes Logos 4 even more powerful. That gives you instant access to technical linguistic data, along with the tools for accurate exegesis and interpretation. So adding 49-volumes rather than one or two greatly increases your ability to study the Word. But the most convincing argument for adding multiple volume collections to you library remains pricing. With the current sale price of $224.95 for 49 volumes, you are getting the combined Tyndale Old Testament Commentary and the Tyndale New Testament Commentary at just under $4.60 per volume!
And that is an example from just #1 in the Essentials list. We could work our way down each list and find the same thing.
Since the lists are based on user purchases, it's likely you have at least one of the products listed. If you do, leave a comment indicating which item(s) you have and how it has been useful for you. You may help another reader decide which item to choose. Then, check the Logos Top 10 Lists for new titles to add to your library.