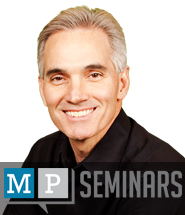 Today's post is from Morris Proctor, certified and authorized trainer for Logos Bible Software. Morris has trained thousands of Logos users at his two-day Camp Logos training seminars.
You've probably noticed that most Bibles are printed in paragraph form. This is great for reading, but when you're studying the Bible verse-by-verse, those little verse numbers are sometimes hard to find. No worries. Logos allows us to display a Bible in list form with each verse starting on a separate line.
Open a Bible to a desired location
Click the Visual Filters icon (three circles) on the Bible's toolbar
Select Bible Text Only
Instantly the Bible transitions to list form! This makes verse by verse study much easier.
Please take note, though, that in Bible Text Only mode, the cross references also disappear. In Bible Text Only mode, the emphasis is on verses only!