Marketing has been very happy to incorporate some new talent from within the company. Deborah Mickens joins the marketing team after being an important part of our Customer Support team for two-and-a-half years.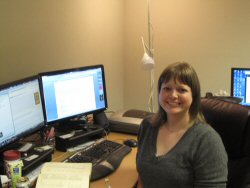 When asked to write a blog to introduce myself, I thought, "where do I start"? I figured the best way to start would be to give a bit of history as to how I started working for Logos. In August of 2007, I decided to take a "leap of faith" and move from California where I had lived all my life and move to Bellingham, Washington to start working for Logos. For the first two and a half years, I worked for the Customer Support department and I am sure that I spoke to many of you while I worked in Customer Support. While in Customer Support, I was one of the "People Behind the Product" interviewees. When the opportunity came up to work in the Marketing department, I figured this would be a good opportunity to try my hand at something new. My responsibilities include gathering and compiling information for the various Pre-Pubs that we post. The most recent Pre-Pubs I have worked on are
One of the best parts for working for Logos is the various cook-offs that occur at least 4 times a year. A couple months after I started working here, it was time for the Annual "Dessert Cook-off". I decided it would be a fun opportunity to enter with my Butterscotch Eggnog Stars and see what it was like to participate in a Logos Cook-off. In preparation I baked somewhere around 150 cookies, it was a lot of work—but well worth it as my hard work paid off by being rewarded with a 3rd place finish. I have also participated in the 2008 & 2009 Chili Cook-off, the 2008 Bake-off and the 2010 Soup Cook-off. Another memorable part of my time at Logos was the summer of 2009 when four of my coworkers and I traveled to Eastern Washington to set up a fireworks show for the 4th of July. We had a great time setting up the show, and seeing how many people enjoyed the work we did. We are all looking forward to this year's show!
The Logos Pre-Pub feature is a great way to get in on the "ground floor" of pricing for your favorite products! Be sure to take a look at what we have available!