Today's guest post is from Brittany Young, a member of our Electronic Text Development team.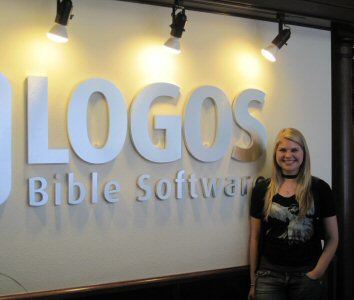 As one of Electronic Text Development's Book Designers, the most common question I hear is, "Wait . . . do you have to type out the whole book by HAND!?" That's when I get to give them a little insight into the text development process.
ETD is a vital part of Logos' structure. Without us, there wouldn't be any books to ship to your digital library. Those books also wouldn't have hyperlinks, Greek, Hebrew or Transliterated language tags, images or any of the number of things that make Logos' software unique.
How texts are developed
Usually, we'll receive text files from the publisher of the book and format those files to match the print version. The book goes through many stages, first to a group of people called Reference Taggers. They add Bible tags and other data tags to our—over 100 different—data types (like the Works of Josephus, Strong's Numbering, or The Laws of Hammurabi), and jump tags both to internal references and to other existing Logos resources. Then, the book heads to the Book Designer who does work on overall edits, final tagging, formats like indentation, font size or style, image insertion, and the list goes on. We use XML code and internal tools to help with the bulk of work, which are imagined and built by our talented Book Developers. The book then goes through an in depth series of final checks and corrections by our Team Leaders before it's sent off to the boss to be shipped. After that, your book is ready for use in Logos 4!
Is ETD the best department at Logos?!
In my opinion—biased as it may be—ETD is by far the best department to work for at Logos. We are the undefeated champion of the annual departmental Christmas Decorating Contest, we have a history of Top 3 contenders for the many Cook and Bake-offs (yours truly placed third in last year's Pie Bake-Off), and we're often found spending time together in book clubs, bible studies and softball leagues. This might sound like a great time, but now you know that there's more to Text Development than just fun, games and candy.
So, the next time you're opening up a new title in Logos 4, think about the different steps it takes to get there. Depending on the size of the book, each one requires special attention and takes a different amount of time to complete. For example, consider your best friend, The Anchor Yale Bible Commentary set. This enormous series required a colossal amount of work and took over a year to complete. Sometimes we fly through the books, sometimes they take a bit longer, but either way we are committed to delivering Logos users the most detailed, accurate and exciting product possible.