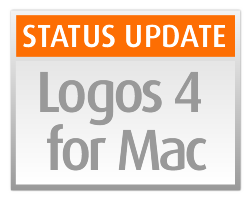 Getting Logos 4 for the Mac finished is one of our top priorities. Recent Alpha releases are in good shape, and offer many of the core features. We're working at top speed to get everything else done, too.
The number one questions, of course, is "When?" And we can't say, because we don't know. We're putting our energy into coding, not estimating. And, because of the unique challenges involved in sharing code between platforms, there are many things we can't predict the time-frame for, even if we tried.
The good news is that the Logos 4 Mac team is seeing success after success. Our shared-code strategy is working, and ensuring compatibility of both content and documents. And as the platform becomes more stable we're seeing increased speed implementing features at the interface layer.
We've been hiring Mac developers for quite a while, and we have even brought some of the Windows development team over to the Mac side. But we couldn't hire enough great Mac developers fast enough here in Bellingham, so we decided to do something even more dramatic: We opened a temporary office in Bellevue, Washington where we could get access to a bigger pool of Mac developers.
We rented an apartment and moved our Mac team lead there for four days a week. He's helping keep the half-dozen programmers there coordinated with the larger team in Bellingham.
The bottom line? Logos 4 Mac is full-speed ahead, and making lots of progress. We can't predict the final ship date, but we're confident we're doing everything possible to make it as soon as possible. And, of course, there's a new Alpha release every two weeks, which many users report is stable and meets their needs on a daily basis.
Want even more updates? Keep an eye on our forums, where you can hear about the latest progress and even interact with the development team.