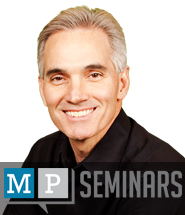 Today's post is from Morris Proctor, certified and authorized trainer for Logos Bible Software. Morris has trained thousands of Logos users at his two-day Camp Logos training seminars.
When I studied with print books I had an old, well-used Bible on my desk. This Bible's sole purpose was to look up Bible cross references. Because it was "broken in," I could quickly turn the pages to a desired location. My new Bible always stayed open to the passage I was studying and then it would go to the pulpit with me. With Logos 4 you can designate a "cross reference look-up" Bible while staying in the same location in another Bible. Here's how it works:
Scattered throughout your Logos resources are hyperlinked Bible cross references. Normally when you click a link your Preferred Bible will look up the passage. You can override that default by designating a "target Bible."
Click the panel menu in your secondary Bible. It can be another copy of your Preferred Bible or a completely different Bible.
From the panel menu select Send hyperlinks here. Notice a target image appears on the panel menu.
Now when you click a Bible cross reference in any resource, this Bible will jump to that location!