It is quite surprising when we hear of people who have never heard of things we have been doing for a while. One of those things is our Refer-A-Friend program.
In just a few easy steps, we can send your pastor, friends, co-workers, ministry leaders, and/or family members a coupon code to receive 15% off a Logos 4 base package. And to make it worth a few moments of your time, if your recommendation turns into a sale, we give you a $25 gift certificate good toward a web purchase on Logos.com.
To get started, make sure you Sign In to your Logos.com account, and then head on over to www.logos.com/referafriend.
The first step asks you to enter a person's email address and their name. We will use it to send your friend two emails which you will be able to view and customize. And the email will not be added to any lists, so we won't make you look bad.

Next, you see a preview of a plain text email we will send on your behalf. You can easily edit the email to include a personal message if you want, or you can click Next to proceed.
The final step is to select one of seven base packages we include in the program. The default recommendation is set for Scholar's Library as this is our best selling collection, but you have the option to recommend up to Scholar's Library: Platinum.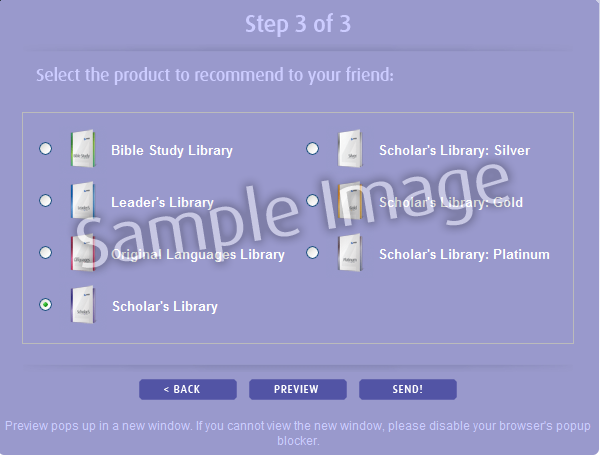 At this point, you may click Send!, or you can see a preview of the fancy html message we'll send featuring your recommended product.
Chances are, your small group leader would benefit greatly using Leader's Library, and suggesting Scholar's Library or above to your relative heading to seminary would make his or her studies and term papers a whole lot easier. Since the Refer-A-Friend program works for the majority of our collections, you can suggest the collection you think would be most valuable to your friend. And don't worry if you are not sure which collection would be best. If you suggest Scholar's Library and they end up purchasing Scholar's Library: Gold, you'll still get a $25 gift certificate—as long as it is included in the program and they use the coupon code you send them!
You can suggest one of the following collections:
With this ability to offer your friends a discount on a product that hopefully has transformed your devotional times, your sermon or Bible study preparation, or has helped you through seminary, why would you not take a few minutes to run down your list of contacts and send them a quick, pre-formatted email? Not only will you be helping transform their Bible study, you could also "pocket" a cool $25 credit for each person who acts on your recommendation.
So what are you waiting for? Refer-A-Friend Now!
Visit our custom upgrade discount calculator to see what discounts you qualify for on an upgrade to a brand new Logos 4 base package.
New customers should visit https://www.logos.com/4 to learn more and see what discounts are currently available.