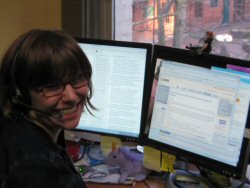 The release of Logos 4 has presented us with some new challenges. At launch we had a strategy to deal with the influx of issues that we knew were going to come flooding in. We kept the phone lines open later and we brought customer service representatives in on the weekend to help our customers upgrade and familiarize themselves with the new product as much as we could. In fact, a few days ago, in a very transparent blog post, Logos President and CEO Bob Pritchett shared some of the challenges that we have faced.
Growing Pains
Logos 4 has been more successful than we could have hoped. And although this is something we are so thankful for, it has created challenges in customer service that we are hoping to have remedied soon. Many companies would say, "You are overwhelmed in customer care issues because of the success of your product? That is a great problem to have!" On some level this is true, but Logos prides itself in its customer care, and one customer who is unhappy with the care they have received is one customer too many.
Our goal for customer service is to have every email answered in 24 business hours, every phone call answered—by a person—in a few rings, and hold times of less than two minutes, if any. Sadly, wait times have crested the half-hour mark and because of that the emails are stacking up as well. This is not acceptable to us, and we are in the midst of hiring and training more agents.
How You Can Help Us
In order to help keep wait times down, we could use your help. Here are a couple items that would help our customer service and technical support representatives help you.
If you need to call the customer service number, please know that we are working hard to get to your phone call as soon as possible. I know how it gets after you have been on hold for about 15 minutes. You get weary of waiting and yet you are already invested . . . you are tempted to start multi-tasking. . . . . that makes sense, but to help us get through as many calls as possible, make sure that you are near your computer when we are ready to take your call. If you have disks for your installation, make sure those are available. In fact—and I know this sounds silly to say—make sure the computer is on!
Some customers opt for contacting customer service via email. Much time is wasted when our representatives open an email that simply says, "I can't install my program," "my software is crashing," or "I get an error when I try to install." It is hard on you—and us—when you have to wait a couple days to have a response to your email and that response is a generic request for more information. If you are emailing us with an issue remember to give us as much information as you possibly can. We would rather wade through some impertinent information than have to come back to you to request more.
Include information like:
Which program you are contacting us for help with. Logos 3? Logos 4?
If you are emailing with Logos 3 issues, include your Customer ID #
Let us know what operating system you are using
What is the nature of the issue that you are calling about?
If you are receiving an error message, what does it say?
Does the error message include an error code?
Before contacting us there are a couple avenues that might save you some time. The Wiki page has some very helpful information like Help! Logos won't start at all. What can I do? and Help! Help was working fine, but now it's crashing on me. What happened? You can also check the FAQ page for some up-to-date tips.
As we have said before, and cannot communicate more emphatically, many of the issues that people contact customer service for have been discussed in the forums. We would love to talk to each one of you, but we want to ensure that your problem can be dealt with as quickly and efficiently as possible. The Logos Forums are read regularly by both employees and very knowledgeable users who relish the opportunity to help others. The forums allow you to easily search for topics—or create threads of your own—related to whatever trouble you might be struggling through at the moment.
We are very proud of Logos 4 and the advances that it represents for powerful and effective Bible study. With any successful product launch comes enormous, and sometimes unforeseen, growing pains. We want to reinforce our commitment you—the end-user—we are working as hard as we can to provide you with the care and attention you deserve. Thank you again for your patience and continued loyalty.