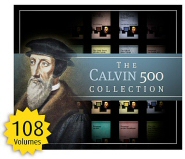 This past week, we have been putting the finishing touches on the Calvin 500 Collection—an enormous collection of 108 volumes written by or about John Calvin. This ambitious project began last year in celebration of John Calvin's 500th birthday, and now we're just a couple days away from shipping.
If you haven't yet placed your Pre-Pub order, here are 5 reasons you should do so before Friday:
1. Calvin's Commentaries
Philip Schaff wrote that "Calvin's theology is based upon a thorough knowledge of the Scriptures. He was the ablest exegete among the Reformers, and his commentaries rank among the very best of ancient and modern times."
Calvin's commentaries display a rare combination of exegetical insight, pastoral concern, and theological depth which have inspired generations of Christians. Calvin wrote commentaries on most books of the Bible, and is best known for his commentaries on the Pauline epistles, his harmony of the Gospels, and his 5-volume work on the Psalms—all included in this massive collection.
2. 5 editions of the Institutes, including the rare Norton translation
The Calvin 500 Collection contains five editions of the Institutes of the Christian Religion—the 1559 Latin edition, the 1560 French edition, the 1574 Thomas Norton translation, and two nineteenth century translations—one by John Allen and the other by Henry Beveridge.
The publication of the Norton translation in Logos Bible Software is a significant event for Calvin scholars. Norton's translation was the first to appear in the English language, and was published in 1574. It was also the standard English translation until its last printing in Glasgow in 1776. John Allen's new translation in the early nineteenth century replaced Norton's translation, and a new edition of Norton's translation has not appeared in more than two hundred years. Early editions of the Norton translation are available today only in private collections and in a handful of libraries around the world. Even later editions are difficult to find. Having the rare Norton translation available in Logos Bible Software is a significant event for Calvin scholars around the world.
3. 600 letters and correspondence
B. B. Warfield rightly called Calvin "the great letter-writer of the Reformation age." The Calvin 500 Collection includes over 600 letters written between 1528 and 1564. His first letters were written as he studied in Paris; the last letter in the collection was written from his deathbed. In between, we find letters to other Reformers such as Martin Luther and John Knox, as well as letters to kings and government authorities.
4. Tracts and treatises written by John Calvin and his contemporaries
Calvin's tracts and treatises help us understand Calvin's role in shaping the Reformation and his lasting influence as a key thinker of Reformed theology. These treatises—written by Calvin, his contemporaries, his supporters, and his detractors—expose and illuminate the emergence of Reformed theology as a legitimate movement during the sixteenth century. The Calvin 500 Collection also includes Theodore Beza's influential Life of John Calvin.
5. Pre-Pub price expires on Friday
When Calvin 500 Collection ships on Friday, the Pre-Pub price will disappear. That gives you one last chance to add 108 books by or about Calvin to your library for a fraction of the cost. In fact, the current Pre-Pub price works out to around $3.50 per volume—for Calvin's commentaries, a rare edition of the Institutes, tracts, treatises, letters, biographical material, and dozens of other volumes. This is a once-in-a-lifetime deal. Don't miss out—place your Pre-Pub order now before this deal expires on Friday!