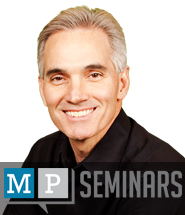 Today's post is from Morris Proctor, certified and authorized trainer for Logos Bible Software. Morris has trained thousands of Logos users at his two-day Camp Logos training seminars.
If you're new to Bible reading and Bible study then Logos Bible Software 4 is going to be a very good friend to you by helping you get into the Bible. The Home Page opens with numerous suggestions for study as it displays various articles and graphics from your library. When you see something of interest just click a link for more information.
On the Home Page is a Passage Box in which you type a biblical reference to initiate study of that passage. You may, however, at least occasionally, not know a passage to type. Don't fret. Logos will still help. Instead of typing a Bible reference, just type a couple of keywords and more times than not, Logos will locate a passage for you. For example,
Type Be Attitudes then click a passage from the drop down list.
Type Lord's Prayer and you'll see the places in the Bible where this prayer is recorded.
Type Birth of Jesus and you'll be studying the Christmas story before you know it.
When you type keywords in the box, Logos searches section titles (pericopes) in your Bibles for possible matches. Try typing these keywords not just on the Home Page, but everywhere you see a Passage Box. Logos is there to lend a helping hand.