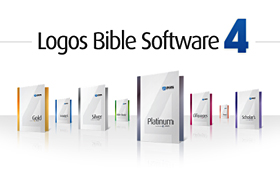 You're probably aware that we are still working on the Mac version of Logos 4. The software keeps getting better and better all the time, with new updates released almost every week. It's a Alpha release, and new features and improvements are being added every day.
Time is running out to get the introductory discount on your upgrade to Logos 4. If you're a Mac user and you're still on the fence about upgrading, here are 9 reasons why you should upgrade today:
1. Books
You get tons of new books. Literally. Put your print books on a scale and add them up. If you upgrade, you will get hundreds—potentially thousands—of resources to aid your study of the Bible, including Bibles, commentaries, reference books, media resources, preaching and teaching tools, and ancient language texts and tools, plus a whole lot more.
This is the single best reason to upgrade to the Mac version of Logos 4. Don't believe us? Run the numbers, or see for yourself.
2. iPhone and iPod Touch app
You can now access many of the books in your library on your iPhone or iPod Touch with the Logos iPhone App. We've already converted 3,000 titles to the new format, which you can access if you own a Logos 4 base package.
3. Windows
We know you love your Mac. But if you're okay with running Logos 4 through VM Fusion, Parallels, or Boot Camp, you can install the Windows version at no additional cost.
4. Syncing
Reading a book on the Mac version and have to run out the door? Pull the book up on your iPhone on the bus and it will open directly to where you left off. Save a layout on your Windows machine at the office and you can open the same layout on the Mac when you get home in the evening. Logos 4 offers syncing across all your platforms.
5. New Releases
New features and functionality are released every two week or so. You get to witness the program's progress all the way to completion. When the final version is released, simply type "Update Now," and your software will update to the full version of Logos 4 at no additional charge.
6. Shape the Product
You can shape the development. By being part of the testing team, your feedback will provide our developers with valuable information to shape the final product. Our Mac forum is very active. With an upgrade to Logos 4, you can add your voice!
7. Version 1.2
Run Logos 4 alongside version 1.2. Upgrading to Logos 4 does not replace your current software. You can use both versions side-by-side. Even better, you can use most of your new Logos 4 resources on Logos for Mac version 1.2. You get all the books with the upgrade, but you can wait to begin using Logos 4 on your Mac until you're ready.
8. Automatic Updates
Logos 4 is self-updating. Updates download automatically. No waiting for disks. You always have the latest and greatest Mac version of Logos 4. And when the final version of Logos 4 is released, you'll get the update at no additional charge.
9. Introductory Discounts End This Week
Remember, time is running out to take advantage of the introductory discounts on an upgrade to Logos 4. If you're a Mac user, you can upgrade to Logos 4 whenever you want, but you can only get introductory discounts until January 31. Visit the custom upgrade discounter to see what discounts you qualify for!
Whether you are a Mac or Windows user, if you are serious about building a library of biblical and theological resources, there's really no better way to do it than with an upgrade—and there's no better time than now, while we still have our extra low introductory upgrade discounts running.
The great news is that you can use our payment plans on upgrades and spread out your upgrade cost over the next 3, 6, 9, or even 12 months. If you have a monthly or quarterly book budget, this is a great way to use it for a Logos 4 upgrade and still take advantage of the introductory discounts. Simply select the payment plan option during checkout.
Remember, these deals end soon. We are in the final hours of our introductory discounts on upgrades. The window of time is closing. Upgrade now!
You can also call 800-875-6467 until tomorrow at 5:00pm (PT) to speak with someone who can answer any questions you have about your upgrade options and about using Logos 4 on your Mac.
What do you think? Is there another reason you've been waiting to upgrade? Still have questions about the Mac version of Logos 4? Leave a note in the comments, and we'll be happy to address your questions and concerns.