Most of the new Logos 4 base packages have upwards of a dozen reverse interlinears, all the way up to Portfolio, which has twenty. However, if you search in My Library, you won't find any of them. So where are they?
Logos 4 takes a new approach to reverse interlinears. They are no longer separate resources, but they're now integrated into many of the English Bibles in your library. To access the reverse interlinear for the translation you're reading, all you need to do is click the Interlinear button. When you click it, the reverse interlinear panel appears at the bottom of the pane you're reading.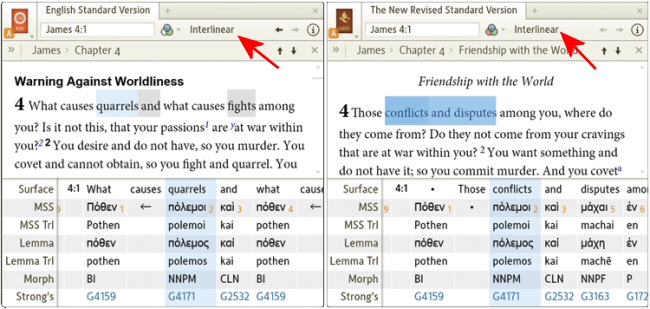 With the panel, reverse interlinears are built directly into many English Bibles, allowing you to see the Greek or Hebrew behind your text. All your information is now in one pane for quick and easy reference.
Logos 4 also introduces a brand new feature called Sympathetic Highlighting. When you highlight a portion of text in one interlinear, the corresponding text in your other open English Bibles that have interlinears will also be highlighted.
You can try it right now: open up two English Bibles (the ESV and NRSV, for example) to the same passage. Then highlight in one to see the equivalent text highlighted in the other.
There are more features and new interlinears coming soon, including the ability to view the reverse interlinear data in the primary, wrapping text window, as well as in the strip below. We're also working on English–Greek and English–Hebrew reverse interlinears for the NIV and the NLT. We have not yet set release dates for the new interlinears, but if you own Bible Study Library or higher, these files will download automatically as soon as they are complete.