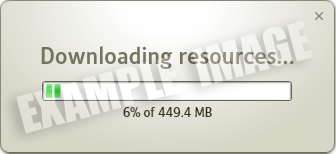 Logos Bible Software 4 is a professional-level power-tool. Ultimately, it exists to help us facilitate the most worthy pursuit in the universe—God—knowing, glorifying, enjoying, worshipping, and telling others about Him. If you were blessed enough to obtain it, would you want anything less than a professional-level power-tool to even scratch the surface of this inexhaustible and monumental task?
Just like other professional-level software packages that say, for example, run nuclear power plants, you can imagine Logos Bible Software 4 is going to take more than 30 seconds to download, install and get set-up… a lot more. It's not a toy after all, it's a professional-level power-tool.
Logos Bible Software 4 is exciting and we know you'll want to play with your new purchase right away, but remember this one time investment in the proper process will pay dividends for years to come. Here's what to expect.
So, you just purchased or upgraded to Logos 4 and, being confident in your internet connection, you chose the download option. What should you expect from the whole process?
There are three steps to getting set up to use your new software, and the entire process can take anywhere from a couple of hours to a couple of days (worst case scenario), depending on (1) the speed of your internet access, (2) the speed of your computer, and (3) the size of your library.
Step 1: Installation and Downloading
After purchase you will be prompted to download Logos4Setup.exe, which is a small (322KB) installer. Once the download finishes, double-click the file to install Logos 4. When installation is complete, you will be prompted to log in to your Logos.com account. Logos 4 will then begin downloading the resources for your package.
Installing a base package is going to require the downloading and installation of many resources and, depending on the number of resources you have in your pre-existing library, could mean many GBs for you to download. Your internet connection and download speeds are going to affect the downloading process and you might want to start the installation process in the evening and leave it to run overnight.
TIP: Remember, if you are upgrading from a previous Libronix installation your licenses need to be synced in order for Logos 4 to know to transfer and install books that you already have in your collection! This can be done by simply going to Tools > Library Management > Synchronize Licenses in Libronix. If you do not have this option you are running an older version of Libronix DLS and should update to the latest version or call Customer Support at 800-875-6467 for assistance.
After you sync your licenses, enter your Customer ID (found under Help > About Libronix DLS) in your Logos.com account.

Step 2: Preparing Your Library
After your resources are downloaded, Logos 4 begins preparing your library.
During this procedure, Logos 4 is involved in finding files from your Logos 3 installation on your computer (if applicable), copying them to your resources folder, importing data into your Library Catalog, preparing Interlinear management, as well as a host of important processes.
Step 3: Indexing
When Logos 4 is done preparing your library, the program itself will open and you can begin exploring the wealth of tools and resources in your new base package. However, it's not quite ready for full use yet. You'll notice that an icon in the system tray indicates that Logos 4 in now indexing your library to enable you to do amazingly fast searches (more about the indexing process can be found here).
You will begin to enjoy the layout and ease of Logos Bible Software 4 during the indexing process but indexing is an integral part of installation. The power of Logos 4 is not realized until all of your resources are fully indexed. When the indexing is complete you will begin to see exactly what Bible study reimagined looks like.
So, once your computer starts indexing, go enjoy the holiday season by spending time with your family or go bake some cookies (and send some to the Logos office). Once indexing is completed, we are confident you will find that the wait was well worth it!