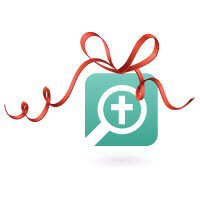 It is that time of year again—the time where we celebrate Jesus, the greatest gift we have received, by giving gifts to those closest to us. This year as you are looking over your Christmas list, consider giving the gift of Logos 4 to that special someone. In fact, we would like to offer a discount of 25% off any of our base packages through Christmas! Simply use the coupon code blessing to save.
Whether they are a pastor, a seminary student, a Bible study leader, or they are in need of an incredible tool for their personal devotion and study time there is a perfect package available for them. You would be hard pressed to think of a better present than one that will immerse your loved one in God's Word, helping to lead them in a deeper appreciation of God's character, attributes, and ultimately, His profound love for them.
Logos 4 is a resource that is user-friendly enough to keep up on Bible and devotional reading; but powerful enough to be a personal research assistant in sermon preparation, dissertation writing, and in-depth Bible study. The intuitive nature, coupled with the adaptability of Logos 4, makes it a resource that is both capable and convenient.
When you add the benefits of Logos 4 to the mobility of our free iPhone/iPod Touch app things go from great to amazing. Imagine having many of your resources available to you wherever you are, synced to the last place you closed them on your desktop, access to many of the Bibles featured at Bible.Logos.com, and Logos' search functionality to quickly find relative verses in an instant.
Remember, purchase any of our base packages through Christmas at 25% off using the coupon code blessing or pass this blog on to a loved one to do so for you! If you want to get yourself a great Christmas present simply login or create a Logos.com account so you can check out the Upgrade Discounter for your personal tailor made discount.
Another great gift idea for yourself or a loved one is a subscription to Bible Study Magazine. At a low cost of $14.95 (almost 50% off the cover price) you simply cannot go wrong. And over the course of the year they will get six issues featuring further tools for Bible study as well as interviews and insights from respected voices in the Church and biblical scholarship.
Logos Bible Software, providing gifts that truly keep on giving.
(Don't forget about the Twelve Days of Logos. Check out today's deal on the Anchor Yale Bible Dictionary)