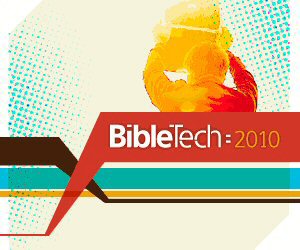 BibleTech:2010 preparations are in full force, and it is shaping up to be another landmark event. If you have a passion about the latest developments in Bible and technology, then set aside March 26-27 for the event, and register soon! The sooner you register the more you save, and you still have time before January 4 to save $40.00 on your registration!
Make sure to check out the speakers which will be presenting at this year's event! Bibletech:2010 will feature a veritable who's who from the biblical technology industry. This year will feature veterans from previous BibleTech conferences as well as many fresh faces, all delivering relevant information regarding translating, studying and communicating the Bible in a digital age. The speakers page outlines the topics that will be addressed by this year's presenters as well as offering audio from the last two years.
If you are curious about what past attendees have said about BibleTech, check out Eric Young's article in The Christian Post and read ZDNet Tech Blogger for Matthew Miller's review.
This year's BibleTech will be held in San Jose, California, appropriately nestled in the center of Silicon Valley. Discounted accommodations can be made by visiting the San Jose Sheraton event reservation site.
What can you do to help prepare for BibleTech:2010 you ask? If you have attended BibleTech in the past, or are enthused about BibleTech in general, then make sure to talk it up; Facebook it, Twitter it, blog about it, talk it up in your small group or at Church. If you have a webpage then we also have banners available to help you promote BibleTech:2010!
Remember: There are only a couple days left to take advantage of our great Christmas Specials for upgrading and purchasing Logos 4!
And don't forget we are in the home stretch of the Twelve Days of Logos sale which ends December 31, 2009!