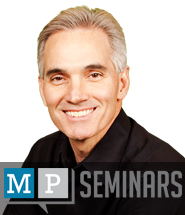 Today's post is from Morris Proctor, certified and authorized trainer for Logos Bible Software. Morris has trained thousands of Logos users at his two-day Camp Logos training seminars.
You and I have a lot of books. Then we have our favorite books. For example, within Logos Bible Software 4 we have a boatload of Bibles. Yet we also have our favorite Bibles. We have considerable commentaries. Within those, we have our favorite commentaries. These favorite resources in Logos are called Prioritized Resources. These favorites are then opened first in various places throughout the software. The good news is you get to designate your priorities. Here's how:
Open the Library
Click Prioritize on the right to open a pane called Prefer these resources:
Now drag and drop your favorites from the Library to the list on the right
I suggest placing your Bibles at the top, then Bible dictionaries, then commentaries, and so on. This way your list is neatly organized so you can easily change it if you wish. Remember, within the list you can drag and drop resources to a new position.
The next time you launch a Bible study from the Home Page, notice what commentaries appear first in the Passage Guide. Notice which five of your top Bibles open first in the upper center tile.
You can edit this list as much as you want!