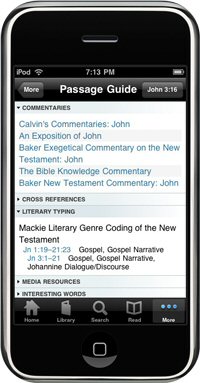 The Logos 4 release has been big news for the past seven weeks since it first came out. Response has been overwhelming, and we've been so busy with the release of Logos 4 that we haven't had much time to talk about the other big project we recently launched—the free Logos Bible Software iPhone app.
Begin reading the Bible, searching, comparing versions, and setting up reading plans to keep you in the Word every day. Anyone with the Logos iPhone app may instantly access around 30 Bibles to read on their iPhone or iPod Touch.
Tens of thousands of people who had never even heard of Logos, before the iPhone app, have already downloaded the free app, and love it. Many users have gotten even more out of the app by registering to gain access to more than 30 additional free books. Again, you don't ever have to register. You can keep using it free and anonymous forever if you prefer, but by registering you are able to access a total of more than 60 books, plus the app itself—all without spending a dime.
However, when you upgrade to a new Logos 4 base package, you get a key which tells our servers to grant you access to all the books that you have ever purchased for Logos Bible Software old or new, as long as our publishing partners have given us permission to display each title on the iPhone.
This bonus feature in the new Logos 4 base package allows you to access up to 3,000 of the titles you own on the iPhone—not just books in the new base packages, but also books you may have purchased ten or fifteen years ago. And we're making new books available regularly as we secure rights and convert titles to the new format.
Even better, the iPhone app isn't just about reading books. It also incorporates many of the features and tools you've come to love about Logos Bible Software:
Bible study anywhere. Now you have access to many of the books in your library wherever you go.
Syncs with your desktop application. The app remembers your favorite resources, bookmarks, and settings across all platforms. Logos 4 even saves your last location in each of your books, so you can leave your desk and pick up your reading right where you left off using your iPhone or iPod Touch.
Stay up to date on your daily readings with a Bible Reading Plan. As a Logos 4 user you can complete your reading on your computer or iPhone and both will keep your plan up to date.
Learn more about a word by running a Bible Word Study. Get a report with links to dictionaries, lexicons, verses using the word, and view various translations of the Greek or Hebrew word.
Like the desktop version of Logos Bible Software, the Passage Guide allows you to enter a verse and get a detailed report that includes relevant commentaries, cross references, literary typing, media resources, and interesting words.
Learn more about the original language words behind the English translation. Tap and hold any word in your Bible and Logos Bible Software will look up the word and deliver the manuscript, lemma, and morphological information on the Greek or Hebrew word.
Just feel like reading a book? Browse through your library and open one up. If you've opened the book before on your iPhone or computer, it will pick up right where you left off.
Lots more! Check out the iPhone page to see all the other features, screenshots, and more, or take a look at the iPhone posts in the Community Forums.
Many of the people who have never heard of Logos and started using the iPhone app have enjoyed it so much, that they've purchased a Logos 4 base package—just to access all the new content. They aren't buying a Logos 4 package to use the desktop app, they are buying Logos 4 simply to access a ton of great books on their iPhone.
And the ability to access many of your titles on the iPhone is just one of the hundreds of brand new features that come with each Logos 4 base package or base package upgrade. So think about it: if people who've never heard of Logos are buying Logos 4 base packages just so they can access additional books on their iPhones, imagine the benefits you will get—as someone who is already an experienced Logos user, and already aware of all the great benefits of using Logos on your desktop—when you upgrade to a new Logos 4 base package.
We've decided to extend the upgrade discounts through the holiday season. That means you still have a little more time to save on an upgrade to a brand new Logos 4 base package.
You should follow us on Twitter
here
.