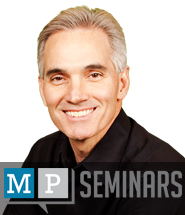 Today's post is from Morris Proctor, certified and authorized trainer for Logos Bible Software. Morris has trained thousands of Logos users at his two-day Camp Logos training seminars.
When you first open Logos Bible Software 4 you come to the Home Page. This screen may not resemble anything you've ever seen in software before. It should look very familiar, though. It looks like the front page of a newspaper or the home page of a web site.
Think with me about the newspaper analogy. Each day we pick it up to read, we see the front page lays out the same yet contains different content. We always know where the title of the paper, the edition, the weather, and so on are located. Yet the articles are never the same. Who wants to read the same articles day after day?
The same is true for the Logos Home Page. At the top in the "ribbon" you'll see features that stay the same day in and day out: your Preferred Bible, Reading Plans, and more.
In the lower section, however, you discover content that changes every day. It's just like the front page of your very own Bible study newspaper! You see articles from books, images, maps, this mp|seminars Tips blog post, or most anything.
When I first saw this Home Page I did a double take. I wasn't sure I liked it. I want things to stay the same. Now I understand, though, it's not supposed to stay the same. It's supposed to change.
Every day we're to have our sanctified imagination and curiosity motivated to dive into God's Word perhaps in a way we never have before. I encourage you, each day look for something different and follow a link to where it takes you. You never know what you'll learn about the Bible with Logos Bible Software 4.