We are merely hours into the release of Logos Bible Software 4, and while many of you have already waited for your massive libraries to index, you may have caught yourself thinking, "I thought Logos 4 was supposed to be fast. What happened to 'What You Need, When You Need It'?"
Logos 4 takes searching to a whole new realm with faster, smarter searching. And unlike most search engines, Logos 4 provides matches for synonyms! For those missing the significance of this, if you are searching for articles on communion, no search engine is going to bring results back for synonyms like the Lord's Supper or Eucharist. Nor will the other search engines ask you if you wanted a closely related topic like fellowship. This is the difference with Logos 4. We have gone through hundreds of topics and manually connected them to relative terms.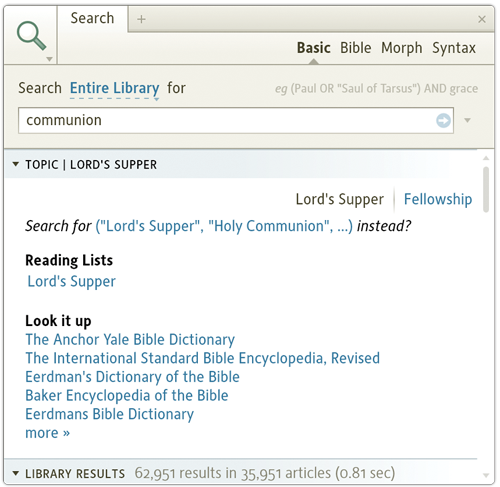 In order to do such searches, however, every word and every term in the thousands of books available for Logos needs to be indexed during installation. This allows Logos 4 to search a library of 10–10,000 books and return thousands of results in under one second—less time than it takes to pull one print book off your shelf! Nearly 63,000 hits for communion in 35,951 articles in less than 1 second means more time studying and less time searching.
It's true, this functionality takes a significant amount of time to install—an investment of your time in the beginning—but what you get in return later on is a fulfillment to what we promised from the start, "What You Need, When You Need It." Indexing your entire library allows the time consuming hindrances to be removed so you can get right to the task of serious Bible study.
Indexing. Think of it as if you were waiting for UPS to deliver your Amazon order. A little patience and investment of time up front—during installation—means that later on, whether you're preparing for next Sunday's sermon, working on your dissertation, or having your daily devotional time, Logos 4 will deliver thousands of relevant results —fast!
You should follow us on Twitter
here
.