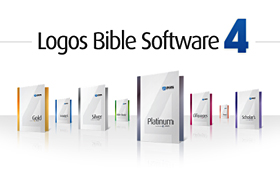 Today we are announcing the all-new Logos Bible Software 4, designed from scratch to accomplish our goal of helping more people do more and better Bible study.
The leading Bible software products available today (including our own Libronix DLS 3.0) are powerful tools designed 10-20 years ago. Most Bible software companies were started in a day when users owned screwdrivers for opening their computer case and knew what a DIP switch was. Our software was designed for people who liked technology and were comfortable with it.
Today everybody has a computer, and everybody isn't a computer-geek. A computer is just one more tool in your life for doing whatever it is you want to do, from Bible study to photography to water skiing. While technology has moved into the mainstream, it hasn't stopped improving. We re-invented Logos Bible Software repeatedly to stay on the cutting edge of technology and user interface. But the edge keeps moving.
Our last product couldn't anticipate the incredible inter-connectedness of today's users, with widespread broadband, wireless, and mobile-phone Internet. Today's leading programming language didn't even exist when we designed the Libronix DLS. Apple and Microsoft have changed processors, operating systems, and more. And, most importantly, the customer base has changed: today's Bible student with a computer isn't a computer hobbyist. We are appliance users who expect power, elegance, and simplicity. We want computers to be like our toasters, TV's, and cars. Turn them on and they just work.
This generation needed yet another back-to-the-drawing-board approach to Bible software. And we were glad to do it. Because only by starting with a clean slate can you leave behind mistakes and poor choices. Only facing an empty whiteboard can you design an architecture that isn't constrained by the limitations of long-gone hardware and operating systems. Only by abandoning your existing product can you truly hear what your users want in a world unconstrained by yesterday's designs.
Throwing it all away and starting over is incredibly rare in the software world. It is considered a dangerous business decision. It puts years between major releases and increases development costs. And the better your existing product is, the more your new product upsets existing users, many of whom just wanted a few small improvements.
But it is the only way to take advantage of the latest technology. It is the only way to design for today's users, and their expectations about elegant design, powerful features, and Internet integration. It is the only way to keep some of the world's finest software developers interested and engaged. (It's no fun maintaining a decades-old codebase.)
Starting over takes courage, but it is the only way to do something extraordinary.
Logos Bible Software 4 is not an upgrade. Logos 4is Bible software re-imagined. To help you do more and better Bible study.
You should follow us on Twitter
here
.