In the history of our company, Base Package Upgrades have generally been the best way to get a tremendous amount of new content for minimal cost. The release of Logos Bible Software 4 is no exception.
Upgrading your base package gives you all the benefits of Logos 4—a revolutionary tool for Bible study. Logos 4 has a brand new Home Page to get you started, powerful (and fast!) new search tools, an intuitive and easy-to-use design, plus lots of other new features.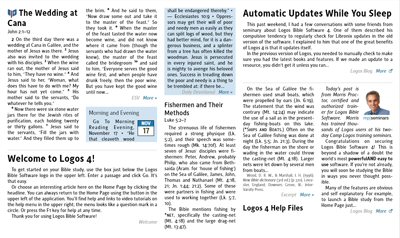 When you upgrade, you get a tremendous amount of new content for minimal cost. You could potentially get hundreds of books for up to 95% off. We've added lots of new content to every base package—new Bible translations, reverse interlinears, commentary sets, reference material, preaching and ministry resources, and a whole lot more. Depending on your situation, you could easily double or triple your current library at minimal cost to you. Take a look at the comparison chart on logos.com/upgrade to see the sheer number of new books we've added to our collections.
With an upgrade to Logos 4, you can take advantage of today's most advanced tools designed specifically with Logos Bible Software 4 in mind. Visualize the Bible with new people, places, and things databases. Zoom into the Holy Land with interactive, topographical maps linked with coordinates to Google Maps. Get an additional perspective on the place you're exploring with thousands of images and photographs—all viewable with the new media resource functionality of Logos 4. You can also interact with the stories of Scripture with high resolution Infographics commissioned specifically for the release of Logos 4. Logos 4 also comes with new one-of-a-kind databases, stunning graphics, and a whole lot more.
You have nothing to lose. Literally. You will retain all of your current resources when you upgrade. When you buy an electronic book from Logos, you will never lose your book. And we'll never make you buy the same book twice. That means if you've recently purchased new books, and now decided to upgrade, you won't lose the resources you've purchased. You'll simply add a significant amount of new content at a fraction of the cost. You keep everything you've purchased in the past—and you'll gain dozens, hundreds, or maybe over a thousand new books at a significant discount, depending on your situation.
For the initial release period, we're offering discounts on all upgrades. Visit the custom upgrade discount calculator to see what discounts you qualify for on an upgrade to a new Logos 4 base package. If you've been thinking of expanding your library, the release of Logos 4 presents you with the perfect opportunity. Upgrade today!
You should follow us on Twitter
here
.