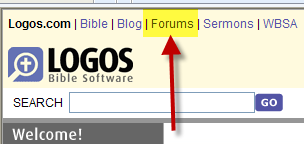 …use the Logos Community Forums!
With the launch of our most significant product ever—Logos Bible Software 4—there are bound to be some questions. As you can imagine, our phone lines are busier than ever with excited callers trying to either order the brand new collections, upgrade to the new packages, or get answers to some very common questions on this completely "new to everyone" product.
We've tried to answer some of the most common questions on our product pages, in our Technical FAQ, and in our General FAQ. As always, we are happy to try to answer any other questions you may have over the phone, but our lines are so busy right now (even with extended hours until 9:00 PM Pacific, additional staffing, and lots of overtime) that wait times are much longer than normal.
We want to be completely honest and up front about this new release: it's not just new to you, it's new to us, it's new to everyone. As we all know, "new" is exciting, "new" is scary, "new" is different… "new" will initiate many questions that may require some trial and error, patience, experimentation and hanging out in the user forums, tutorials, and support pages to learn more. Yes, our sales and support staff have seen the product and received training on how to handle the typical support issues related to installation and indexing, but we are finding that many of the calls that come in are more related to training than support or service issues. Typically these are calls from customers that have upgraded to a completely new software platform and their questions are related to how they would do things in the new software, where their favorite feature is located now, and typical new user training on a brand new platform after years of experience with the old one. Since our "service and support" staffs are only set up for "service and support" it can be frustrating for everyone involved when the only answer that we can give after an hour on hold is, "that's a training issue".
In order to provide the best possible service and training we place as much information as possible on the web. We are putting up more content, videos, and support all the time. The sales and support staff are so busy answering the flood of phone calls, that they actually have less time than you to read the information we are adding to the web daily. In other words, right now, you may be more of an expert on the product than any one random representative is (don't worry, as soon as we can come up for air, we'll pass ya').
If you don't want to sit on hold for a very long time only to discover that just five minutes on the web could have answered all your questions, there's a much faster way to get help. We have an active group of users in our community forums who do an amazing job helping new users and answering questions.
The quickest and best way to get your problem solved is to click on Forums in the top left-hand corner of any of our websites and search for the answer. Chances are someone else has already asked your question.
Here are some things you might have questions about that the forums could give you quick answers to:

Questions like these and many, many more are discussed and answered on the forums by some of our most knowledgeable users. Logos staff make appearances as well. The answer to your question may even come from our president, Bob Pritchett.
If you've searched but can't find the answer to your particular question, feel free to start a new thread. You may be surprised by how quickly someone answers your question.