Logos Bible Software 4 is a powerhouse of tools to help facilitate the deepest of Bible studies. Whether preparing for your personal Bible study or using Logos 4 to work on your doctrinal thesis, you can rest assured that you have the most effective ally in Logos Bible Software. But Logos 4 is not just a great resource for research and study, it is an immersive environment for getting the most out of simply reading from your growing library.
One great aspect of Logos 4 is that, while the in-depth study capabilities are amazing, the simplicity and layout of the program itself is refreshing as well. Logos Bible Software is perfect for analysis, research and your personal devotions. You will find yourself drawn towards pursuing your personal Bible reading and devotions with Logos 4.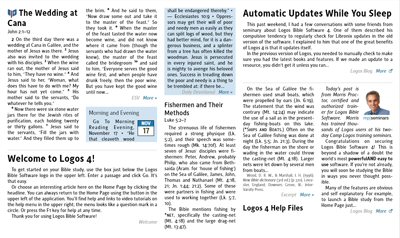 Imagine, you wake up in the morning, go through your normal routine and, with your favorite morning beverage, sit down and open Logos 4. Right there on the top of the Home Page is your Reading Plan. Your reading plan is entirely customizable by you.
If you want to see more, simply click on the Bible reading for the day and your customizable Passage Guide open up with your favorite references and commentaries to the passage from this day's Bible reading. If you want to continue on in your Bible reading F11 puts you into Reading view which maximizes your browser and clears everything but the text that you are reading. The simple, clear layout encourages you to read chapter after chapter.
From the Home Page you can also read today's passage from your daily devotional which can also be put into reading mode.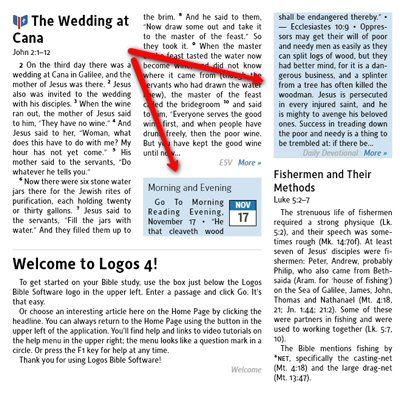 There is so much in Logos 4 that enables, not only study, but your ability to get into the word. You can walk away from your desktop and pick up right where you left off from your laptop thanks to the incredible syncing ability of Logos 4. You can arrange your books in whatever format is most helpful and Logos 4 automatically saves a snapshot of your layout so that you can pick up where you left off.
Logos 4 is a clean, intuitive, and adaptable Bible software that invites you, not just to study the Bible for information's sake, but to fall in love with simply reading the Scriptures again.
You should follow us on Twitter
here
.