This past weekend, I had a few conversations with some friends from seminary about Logos Bible Software 4. One of them described his compulsive tendency to regularly check for Libronix updates in the old version of the software. I explained to him that one of the great benefits of Logos 4 is that it updates itself.
In the previous version of Logos, you needed to manually check to make sure you had the latest books and features. If we made an update to a resource, you didn't get it unless you ran the update. If you unlocked a book, you needed to update Libronix to see it.
With Logos 4, manual updates are a thing of the past. No more syncing your licenses or manually downloading updates to your software. Logos 4 updates while you sleep. It's always synced with our servers to make sure you have the latest build of the software. New releases, resource updates, and other features are delivered automatically and downloaded the moment they become available. Once updates are downloaded, you'll see a message that asks if you want to install the updates. This means you'll always have the latest and greatest.
Even better, all of your content is backed up. You can have the peace of mind that all your documents—notes, clippings, custom guides, and more—are safely stored on our servers. If your computer crashes, simply reinstall Logos 4, and all your data will be restored—right where you left it. You can even see exactly when Logos 4 is syncing to the servers.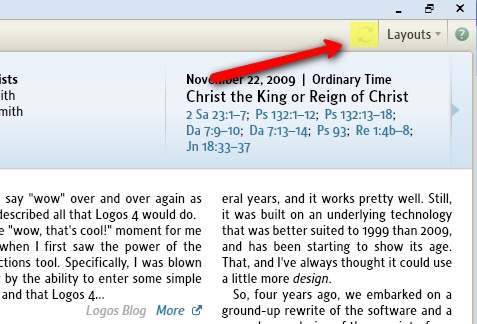 We're adding lots of features to Logos 4 in the near future. We're constantly rebuilding many of our resources to make them even better. And we're fine-tuning the software and making improvements around the clock based on customer feedback and discussion in the Logos Community Forums. You'll receive all of these updates the moment they're available—automatically and effortlessly.
You should follow us on Twitter
here
.