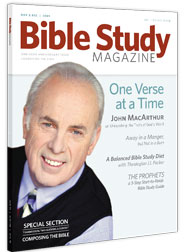 John MacArthur
has been studying the Bible an average of 25–30 hours per week for most of his life, and at 70 years old, he shows no signs of slowing down.
A resolute believer in the dedicated study of Scripture to help Christians grow in their faith, he is a best-selling author, popular conference speaker and president of Grace to You—a non-profit organization overseeing his diverse multi-media outreach, including radio and television programs, website resources and more.
In the November–December issue of Bible Study Magazine, John MacArthur shares his advice on a wide variety of Bible study related topics.

In the interview, Dr. MacArthur answers such questions as:
When you open a Bible, what is the first thing you do?
How should someone with no experience whatsoever with Christianity or the church begin to study the Bible? What are some basic pointers you can offer them?
In what ways is the Old Testament applicable for today's Christian? What about things like the sacrifices in Leviticus—how are they applicable?
How would you study the Bible with someone who does not have the conviction that it is the Word of God?
Why should we study the Bible?
What is the difference between reading the Bible and studying the Bible?
With all the resources on Bible study out there, why do we need new resources on Bible study?
How can we encourage other people to study the Bible?
How much of your time is spent studying the Bible?
What role does historical criticism play in the way you study the Bible?
How do you decipher a difficult passage?
How do you prepare your sermons, or conduct research for your books? What tools do you use?
What are some of the methods you have found that make Bible study appealing to a larger community?
If you could study alongside any biblical author or character, besides Jesus, who would you choose?
Whether you're a pastor, teacher, student or disciple of the Word, there's a lot to glean from Dr. MacArthur's years of experience. His responses to the questions above will inspire, challenge, and help you fine-tune your own time in the Word.
If you are already a subscriber to Bible Study Magazine you should receive the MacArthur issue the first week or so of November. If you were one of the original subscribers, you need to make sure you have renewed your subscription so you will continue receiving the magazine.
If you have not yet subscribed to Bible Study Magazine, you are really missing out. Subscribe now and you can start off with the fantastic November–December issue with John MacArthur's interview on Bible study, as well as J.I. Packer's interview on "A Balanced Bible Study Diet", incredible articles and special sections like "Remembering to Remember the Goodness of God", "Away in a Manger, but Not in a Barn: An Archaeologist Examines the Nativity Scene", "The Prophets—A Start to Finish Bible Study Guide", "Composing the Bible—Transmission, Translation & Context", and so much more.
P.S. Don't forget to check out the 100+ MacArthur titles available for Logos Bible Software!
You should follow us on Twitter
here
.