One of the cardinal rules of the Pre-Pub program is that ordering early guarantees you'll get the lowest price. We always reward our users who pre-order the earliest with the lowest prices—including two people who picked up one collection for 99% off the retail price.
There's another benefit to ordering early that we don't talk about too much: When you place your Pre-Pub order for a collection, you are also placing a Pre-Pub order for any future books we may add to the collection while it's still on Pre-Pub. Usually when we add new books to a collection, we raise the price to cover the additional costs. Pre-ordering early not only locks you in at the lowest price—you also pick up the extra books added to the collection while it's on Pre-Pub at no additional charge.
We expand collections for a variety of reasons. Sometimes, new books in a series are published after we put a collection on Pre-Pub, but before it ships. For example, six new titles have been published in the Opening Up Commentary Collection since we first put it on Pre-Pub, so we've added them to the collection. The Everyman's Bible Commentary and the Face2face Collection each picked up an additional volume for the same reason.
Other times, it makes sense to add new books to an existing collection. When we received permission to publish two books and three journal articles by Charles Ryrie, the Charles Ryrie Legacy Collection was the logical place to include them. We also added two books to the Kress Biblical Studies Collection for the same reason.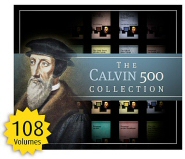 We receive lots of feedback on collections we post, and sometimes we expand collections based on suggestions from our users. For example, after we posted the Calvin 500 Collection in honor of Calvin's 500th birthday, we received suggestions from Calvin enthusiasts around the world who wanted additional books on Calvin. We were able to add eleven new books on Calvin's life and the history of Calvinism to the Calvin 500 Collection.
Occasionally, new books slated for Pre-Pub fit really well into an existing collection. That was the case with Biblical Greek Language and Linguistics, edited by Stanley Porter and D.A. Carson, so we added it to the Studies in New Testament Greek and JSNTS Collection.
The Holman Reference Collection was also expanded to include 131 Christians Everyone Should Know and Steven L. Cox and Kendell H. Easley's Harmony of the Gospels.
If you pre-ordered any of these collections before we added new books, you still get the entire collection—including the new books—at your original Pre-Pub price. Remember, you need to act before the collection ships in order to get any additional books added to collections. And keep in mind that we don't add books to every collection, but when we do, you can get a great deal on the additional titles. Once a series or collection ships, you'll need to pre-order additional books separately.
There are a few other collections on the Pre-Pub page which may expand soon. If you've had your eye on a collection, you'll want to lock in your order now to get any additional books at no extra charge!
You should follow us on Twitter
here
.