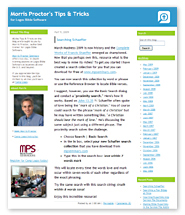 Today's guest post is from Morris Proctor, certified and authorized trainer for Logos Bible Software. Morris has trained thousands of Logos users at his two-day Camp Logos training seminars.
You can easily transform your English keyboard to Hebrew or Greek with the F2 key.
When you're in English, press F2 and you go to Hebrew. Press it again and you go to Greek. Press it once more and you're back to English.
To see the display of a Hebrew or Greek keyboard press Alt + F2
For more tips like this, be sure to visit Morris Proctor's Tips & Tricks blog or subscribe to the RSS feed.
You should follow us on Twitter
here
.