Save $50 off the retail price of The Works of Jonathan Edwards (2 Vols.)
– with the coupon code ED306 !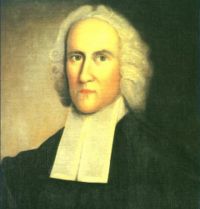 Jonathan Edwards was born to Timothy and Esther Edwards on October 5th, 306 years ago. In the 55 years that followed, he pastored in Northampton, Massachusetts, played a role in the Great Awakening, wrote many highly influential books, papers and sermons, and became president of what would later become Princeton University.
One would find it difficult to over-emphasize the influence that Jonathan Edwards has had in Christian theology, philosophy and practice. The Stanford Encyclopedia of Philosophy called Edwards, "America's most important and original philosophical theologian." Perry Miller, founder of the Yale edition of the Works of Jonathan Edwards, described Edwards as the first and greatest American philosopher. In Edward's works, Perry suggests the reader "discovers an intelligence which, as much as Emerson's, Melville's, or Mark Twain's, is both an index of American society and a comment upon it."
I personally discovered Edwards in John Piper's ECPA Gold Medallion winning book God's Passion for His Glory. In the first half of this life-affecting book, Piper introduced me to Jonathan Edwards and his theological perspective. One could not find a more passionate apologist for Edwards than John Piper. Piper has said, "Jonathan Edwards is in a class by himself in American history, perhaps in the history of Christendom . . ." The second half of God's Passion for His Glory featured Edward's essay The End for Which God Created the World in its entirety, along with notes and commentary by Piper. It was not the easiest read by any stretch of the imagination but, like any good work out, I finished it tired and exhilarated. Soon I was devouring everything I could find by and about America's theologian.
In 1758, Edwards died from the complications of a new and controversial smallpox vaccine. He chose to get the inoculation in order to encourage others to do the same during a smallpox epidemic striking New Jersey at the time. He left behind 11 children and his dear wife Sarah. Beyond his academic legacy, a twentieth century reporter looked into Edward's 1400 descendants and found they included 13 college presidents, 100 lawyers, 66 doctors, 65 university professors, 2 university deans, and 80 holders of public office, including 3 senators, 3 state governors and Vice President Aaron Burr.
As a celebration of this life well-lived and Edwards' incredible legacy, we at Logos would like to offer the following special from October 5th through October 12th:
The Works of Jonathan Edwards (2 Vols.)
for $79.95 – with the coupon code ED306 – that's a $50 savings!
Happy birthday, Jonathan Edwards . . . and thank you.
You should follow us on TWitter
here
.