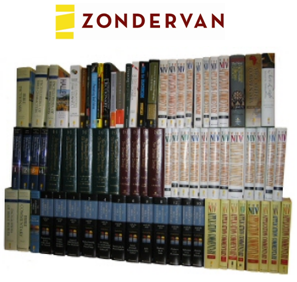 Zondervan announced today they are retiring the Pradis engine and moving their titles to Logos Bible Software.
If you are new around here, this post may look like no big deal—just one more in a long line of publishers releasing titles in our format. However, if you are one of the countless Logos users that have been calling, emailing, praying for and begging us to release Zondervan titles for nearly twenty years—you may be rubbing your eyes in disbelief.
Well, our patient friends, it is true.
Hardly a day has passed that we haven't heard from users pleading with us to get Zondervan titles into Logos Bible Software. After all the years of waiting we are so excited to be able to finally say "Yes" we are going to have Zondervan titles in Logos Bible Software!
This is not a "run of the mill" deal.
Zondervan has some of the hottest reference material out there—in print and electronic formats. Retiring Pradis doesn't mean they are getting out of the software or e-book business, it means they are simply changing platforms. The announcement to retire Pradis comes in the same press release with the news that they will license Logos Bible Software as their new platform. In our typical book partnerships we license content from publishers to release it ourselves. In this partnership, rather than licensing their books to us, Zondervan is actually licensing technology from us.
What does this mean to you?
Don't worry, the finished product is exactly what you would expect. There's nothing different about the way the books are produced. They are still finished by our people right here in our building the same way all our other titles are produced. The difference is, they are Zondervan's products, so they determine the configurations, collections and prices.
Zondervan has just given us permission, as recently as last week, to allow us to combine all 87 of their volumes in one discounted collection. Their main focus is on individual titles, and we do not know how long we will be able to offer the collection at the current discount. If you have been waiting for the chance to get Zondervan's titles for Logos Bible Software, we urge you to place your pre-order now for the complete collection.
Here are just a few of the 87 volumes included in this collection of Zondervan's most popular reference titles:
The complete collection of all 87 volumes has a print retail value of $2,917.07 and for now, we are able to offer it on pre-order for $1,999.95—but we can't guarantee that price for long. If you have any interest at all in having Zondervan content for Logos Bible Software, please place your pre-order today to ensure you get locked in at the best price available.
Get it all for the best price while you can: Zondervan Bible Reference Bundle (87 Vols.).
. . . or check out the full list of titles available individually.
If you can relate to "rubbing your eyes in disbelief" and have been waiting for this announcement for a long time—add a comment below to tell us your story. How does this great news makes you feel?