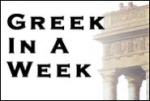 If you're like many of our users, you use Logos Bible Software to aid your study of the Greek language. In fact, over the years, our grammars, lexicons, and other Greek texts and tools have been some of our bestselling books.
A few months ago, we began partnering with John Schwandt to offer an intensive course on the Greek language called Greek in a Week. Professor Schwandt is the Senior Fellow of Classical Languages at New St. Andrews College and brings years of teaching and research experience on New Testament Greek. He's also the voice behind the Greek Audio New Testament.
We've already had successful Greek in a Week courses in Houston, Baltimore, and Santa Barbara. The upcoming course in the San Francisco/Oakland area runs from October 8–10, and is now open for pre-registration.
Greek in a Week equips you to study the New Testament in the original language and to get the most out of your Bible language aids. The course also teaches you the logic and structure of the language and helps you take your exegesis to a deeper level. In fact, in just a few days, you can learn the basics of New Testament Greek and begin translating the book of 1 John.
If you're a pastor who wants to brush up on the Greek skills you learned in seminary, Greek in a Week is the perfect refresher course. It will also provide an advantage to students who want to jumpstart their understanding of the language in preparation for Greek coursework in seminary. You'll also learn how to use Logos Bible Software to enhance and enrich your study of the Greek New Testament.
The cost of the course goes up as it gets closer, which means your registration is heavily discounted when you sign up early. That means if you want to qualify for the pre-registration price for the San Francisco/Oakland course, you need to register soon.
A few weeks before the course begins, your card will be charged, and Professor Schwandt will contact everyone in the course to work out a location in the Bay Area that's convenient.
Head on over to the Greek in a Week page to learn more about the course and to read testimonials from previous students. If you live in the Bay Area, you'll also want to pre-register soon to take advantage of the lowest price.
You should follow us on Twitter
here
.