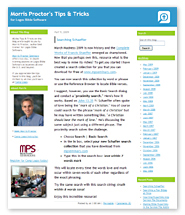 Today's guest post is from Morris Proctor, certified and authorized trainer for Logos Bible Software. Morris has trained thousands of Logos users at his two-day Camp Logos training seminars.
Sometimes it's possible to locate additional articles about a specific subject without having to execute a search.
For example, open the Logos Deluxe Map Set. Type Corinth in the Current Reference box and press Enter. A map about Corinth opens. Now press the Reference Locations arrow to the right of the box. A list of all the maps containing Corinth appears! Click one and you're there.
Look for the Reference Locations arrow in other books especially topically indexed books like dictionaries. This can be a real time saver.
For more tips like this, be sure to visit Morris Proctor's Tips & Tricks blog or subscribe to the RSS feed.
You should follow us on Twitter
here
.