Charles Spurgeon was an astonishing figure. He wrote commentaries, set up orphanages, founded a college, and preached and led Bible studies at his church every week. In fact, by the time Spurgeon turned twenty, he had already preached more than 500 sermons, and was well on his way to becoming one of the church's most famous preachers and one of Christianity's most prolific writers. He also found the time to read nearly a book every day, and read John Bunyan's Pilgrim's Progress over 100 times during his ministry. It's no wonder John Piper said "the word 'indefatigable' was created for people like Charles Spurgeon."
Spurgeon is well-known for his sermons, available in The Complete Spurgeon Sermon Collection, but Spurgeon also wrote dozens of books, edited a magazine, compiled sermons notes, wrote numerous letters, and penned a 4-volume autobiography—and that's just the start. The 86-volume Charles Spurgeon Collection assembles all of his books, commentaries, letters, and other materials into one giant collection.
This week we're putting the finishing touches on the 86-volume Charles Spurgeon Collection. This project has been a major undertaking around here for the past few months, so we're excited that it's going to be shipping soon. This means that you still have a few more days to get your Pre-Pub order in. As always, the price jumps up after we ship, so don't miss out on this chance to add a massive amount of Spurgeon material to your library.
Here's a summary of some of the notable books in this collection:
The Treasury of David, a detailed commentary on the Psalms
Lectures to My Students, which includes Spurgeon's best-selling Commenting and Commentaries
The Sword and the Trowel, a magazine edited by Spurgeon and published between 1865 and 1884
A 4-volume autobiography, the first and most detailed account of Spurgeon's life and ministry
A collection of letters and correspondence
Dozens of volumes on preaching, prayer, evangelism, and more—head on over to the product page to see the complete list.
To whet your appetite, here's a screenshot of the first part of Spurgeon's notes on Matthew 4:19 from My Sermon Notes.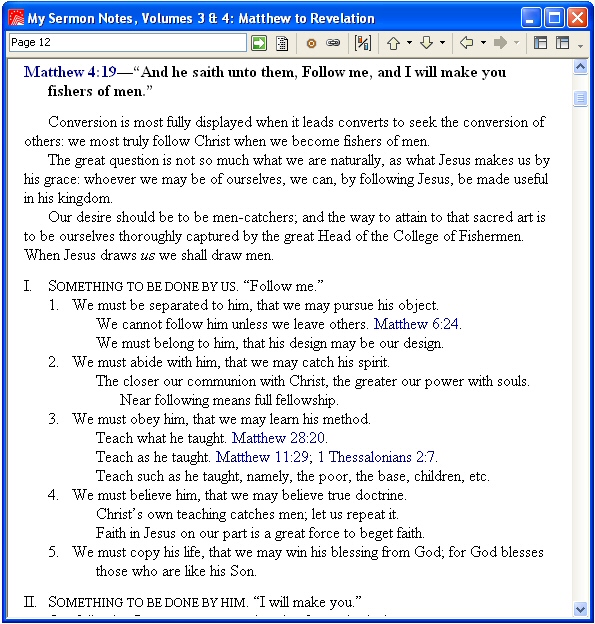 Remember, you still have a few more days to get the Pre-Pub price on the entire Charles Spurgeon Collection. Make sure you place your pre-order today!
You should follow us on Twitter
here
.