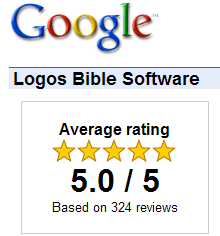 From day one Logos has had a passion for customer service and support—we love our customers!
Everyone in our company has a mandate to provide the best customer service in the universe. So much so, that our CEO/President has repeatedly made it publicly clear that if our staff of nearly 200 can't make you happy, he will personally address your concerns himself!
From customer service and technical support on our toll-free line (USA/Canada), user surveys, and the ability for everyone to send us suggestions and feedback (which we actually read) at suggest@logos.com, to the new community forums where many of our staff members read and engage in the discussion—we want to serve you, and we thrive on your feedback.
That is why we are so pleased, humbled, thankful, and honored to have received a perfect 5 out of 5 stars award from Google Shopping, and to rank in the Top 5 Rated Websites at Reseller Ratings out of nearly 20,000 stores and 360,000+ reviews.
It is especially rewarding to see that our efforts to provide the best customer service in the world are noticed by our customers. It is great to believe we give good service, but it is good to see our customers agree—the #1 most frequently mentioned term in our customers' reviews according to the Google Shopping report is "customer service."
Please help us keep our good name!
We want to make sure all of our customers are taken care of with excellence, and we want you to be able to honestly tell the world that we are a great company to do business with. If you can't—we want to fix that right away.
If you have ever placed an order at Logos.com and you would like to contribute your own public review of the experience, please go to your order history to find your most recent order ID, then go to Reseller Ratings to submit a review with your most recent order ID as your "invoice number."
If for some reason you aren't comfortable giving us a glowing review, we want to take care of you right away and do what we can to make you a happy customer! Please call us at 1-800-875-6467 or email cs@logos.com so we can help you. If that doesn't work, ask for the president—we want you to be taken care of!
You should follow us on Twitter
here
.